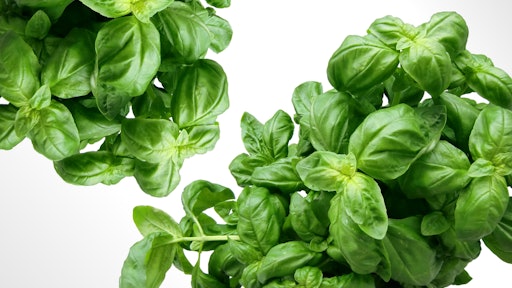 Pexels
There were multiple outbreaks of cyclosporiasis this year, linking to different fresh produce items.
This fall, over 200 people fell ill with Cyclospora infections linked to fresh basil imported from Siga Logistics de RL de CV of Morelos, Mexico, making up 10% of the total people sickened by the infection.
Confirmed patients are from 11 states, though several victims were not exposed to the implicated basil in their home states. The CDC reported the exposure occurring in Florida, Minnesota, New York, Ohio and Wisconsin.
"The Massachusetts and Connecticut case-patients were exposed in New York State; the Iowa, Rhode Island, and two Wisconsin case-patients were exposed in Minnesota; and the Georgia, South Carolina, one Wisconsin and two Minnesota case-patients were exposed in Florida," according to the outbreak update.
Illnesses first began on June 10, 2019 and have ranged until July 26, 2019. Sickened people range in age from 15 to 98 years, with 70 percent being female.
What is Cyclospora?

Cyclospora cayetanensis is a parasite that can only be seen under a microscope. When people consume products that's contaminated with Cyclospora, they can get an intestinal illness called cyclosporiasis.

The parasite is generally transmitted when infected feces contaminate food or water. It's unlikely to be transmitted directly from person to person because it needs time (days to weeks) after being passed in a bowel movement to become infectious for another person.

The time between becoming infected and becoming sick is usually about one week. Cyclospora infects the small intestine (bowel) and usually causes watery diarrhea, with frequent, sometimes explosive, bowel movements. Other symptoms include loss of appetite, weight loss, stomach cramps/pain, bloating, increased gas, nausea and fatigue. People may experience vomiting, body aches, headache, low-grade fever and other flu-like symptoms. Meanwhile, some may not have any symptoms. If not treated, the illness may last from a few days to a month or longer.
There have been at least 2,408 laboratory confirmed cases of the infection across 37 states, District of Columbia and New York City. Patients in the count reportedly became ill from May 1 to Aug. 31 and had no history of international travel during the 14-day period before their illness began.
Out of that number, at least 144 people were hospitalized. At the time of the publication, no deaths have been reported.
The FDA and CDC are teaming up to identify data gaps and research that is needed to develop improved tools to detect, prevent and control Cyclospora contamination of food.
"Together, the FDA and CDC are committed to protecting Americans from Cyclospora and other organisms that can make them sick," Frank Yiannas deputy commissioner for food policy and response for the FDA and Monica Parise director of the division of parasitic diseases and malaria for the CDC said in the release. "Both agencies will continue to use all the tools they have available, from new detection techniques to DNA fingerprinting tools to enforcement tools like import alerts, to prevent cyclosporiasis illnesses in the United States."