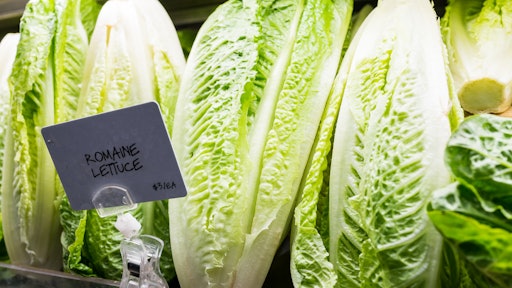 Getty Images
The United States Department of Agriculture's Food Safety and Inspection Service (FSIS) is issuing a public health alert due to illnesses caused by E. coli O157:H7 associated with romaine lettuce from the Salinas, California growing region.
The agency is warning against consuming any wraps, sandwiches, prepackaged salad, salad kits or other product containing romaine lettuce harvested from the Salinas, California region. Additionally, consumers should not eat any salad products identified in a Missa Bay, LLC recall.
The salad was produced between Oct. 14, 2019 and Oct. 16, 2019 and have "use by" dates of late October to early November. The USDA Food Safety and Inspection Services is concerned that some products could be in freezers, refrigerators or distribution centers.
More than 100 people have been confirmed with infections associated with the outbreak. There are currently 102 patients spread across 23 states that have been sickened, with Wisconsin having the most patients at 31 sickened. Arizona, California, Colorado, Florida, Idaho, Iowa, Illinois, Maryland, Michigan, Minnesota, Montana, Nebraska, New Jersey, New Mexico, North Carolina, Ohio, Oregon, Pennsylvania, South Dakota, Texas, Virginia and Washington have also reported people infected.
At the time of this publication, more than half of the patients have required hospitalization with at least 10 people having developed hemolytic uremic syndrome (HUS), a type of kidney failure that is frequently fatal and can cause lifelong complications, such as brain damage.
The CDC and FDA are advising consumers, retailers and restaurants not to eat or sell any romaine lettuce harvested from the Salinas, California growing region. Most romaine lettuce products at retail are labeled with a harvest location showing where they were grown. CDC and the FDA are advising that if this voluntary label indicates that the romaine lettuce was grown in Salinas to not eat it.
FSIS-regulated establishments are advised not to serve, ship, or sell products that contain romaine lettuce from the Salinas, California, growing region. This advice includes all types of romaine lettuce from the Salinas, California, growing region, such as whole heads of romaine, hearts of romaine, and packages of precut lettuce and salad mixes that contain romaine, including baby romaine, spring mix, and Caesar salad. If you do not know the source of your romaine lettuce, and if you cannot obtain that information from your supplier, you should not serve, ship, or sell the product.
Recall Goes into Effect - Again
Romaine was recalled at the same time in 2018, prompting stores to remove the product completely from shelves as health officials were unable to determine the source just before Thanksgiving.
Last year the CDC sent out a recall notice urging consumers to throw away any romaine lettuce they may have already purchased. The noticed continued to say that restaurants should not serve romaine, stores should not sell it and people should not buy it regardless of where and when it was grown. The agency said that it doesn't matter if the lettuce is chopped, whole head or part of a mix -- it should not be consumed. While the CDC is not claiming that all romaine contains the E. coli strain, invesitgators are unsure of where, when or how the contamination happened.
"The food industry is placing an unreasonable burden on consumers to ensure their food is safe to eat. Manufacturers need to take responsibility for the 48 million people getting sick and 3 thousand people who die each year from foodborne illnesses, according to the CDC," Mike Koeris Chief Innovation Officer of Corvium says. "These salmonella and listeria recalls are preventable. If companies make the right investments now to control processing environments and address contamination, they can avoid expensive recalls and most importantly prevent consumers from getting sick."
Safety Measures Already in Place
The Nov. 2018 recall followed a massive Romaine recall that occurred in the spring in Yuma, Arizona that resulted in five deaths. The outbreak was linked back to a tainted irrigation water system.
Since those recalls, the Arizona Leafy Greens Marketing Agreement has updated safety metrics like more rigorous risk assessments on intense weather conditions, added measures for leafy greens grown near concentrated animal feeding operations (CAFO), more requirements on cleaning/sanitizing harvest equipment and stronger traceback requirements.
Meanwhile, California's Leafy Greens Marketing Agreement adopted new standards for growers that involved equipment cleaning practices, proactive steps for extreme weather, mandatory traceability measures and buffers between growing areas and feedlots.
New requirements include additional safeguards that ensure farmers categorize the source of their water and to consider how and when water is applied to crops. Farmers will also have conduct water testing to ensure it is safe for its intended uses.
Farmers now must take responsibility for the food they produce, as the whole industry is aware of the impacts of an outbreak. By participating in the LGMA program, growers must adhere to mandatory government audits of their farms.
Walmart, Kroger, Costco, Wegmans and Yum! Brands have also formed the Leafy Greens Safety Coalition.
The group will endorse recommendations from the Romaine Task Force and is committed to working with suppliers on implementing best practices that are backed by science.
"As a leader in food safety, The Kroger Co. recognizes the need for an integrated food safety approach to ensure fresh leafy greens remain safe and readily available for our customers," the company wrote. "We commend the efforts of the industry produce task force and fully support its recommendations."
This article has been updated to reflect current information.