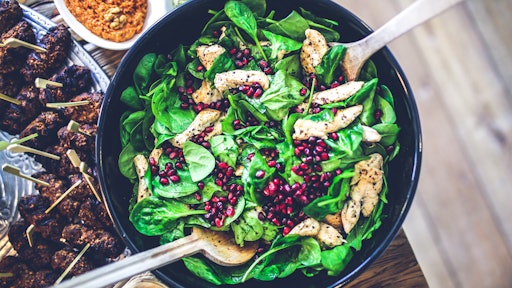 Pexels
New Jersey-based company, Miss Bay LLC, has recalled over 97,000 pounds of salad products containing meat or poultry.
The products were recalled because the lettuce may be contaminated with E. coli.
The salad was produced between Oct. 14, 2019 and Oct. 16, 2019 and have "use by" dates of late October to early November. The USDA Food Safety and Inspection Services is concerned that some products could be in freezers, refrigerators or distribution centers.
The items were distributed in:
Alabama
Connecticut
Florida
Georgia
Illinois
Indiana
Louisiana
Maine
Maryland
Massachusetts
Michigan
Minnesota
Mississippi
Missouri
New Jersey
New York
North Carolina
Ohio
Pennsylvania
South Carolina
Virginia
Wisconsin
The Maryland Department of Health discovered the E. coli contamination after it tested an unopened package of salad as part of a foodborne illness outbreak investigation.
At least 17 people have fallen ill with e. coli and seven have been hospitalized in Arizona, California, Colorado, Idaho, Maryland, Montana, Washington and Wisconsin. Two of those hospitalized have developed a type of kidney failure that is often associated with E. coli. At the time of this publication, no deaths have been reported.
Restaurants and consumers are urged to throw away any of the contaminated food or return them to their point of purchase.