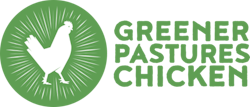 According to Food Safety News, a Texas company has been selling chicken that was labeled as inspected but not actually so.
Raw, frozen whole chickens produced by Pasture Raised Foods LLC and packaged under the Greener Pastures Chicken brand, were the subject of a recall notice Thursday. According to the article, there is little information on the product labels for people to determine whether they have recalled chickens or not.
The recalled chickens vary in weight and are vacuum sealed in clear plastic packaging with heads and feet removed. The recalled chickens were produced from Nov. 29, 2018 to May 24, 2019.