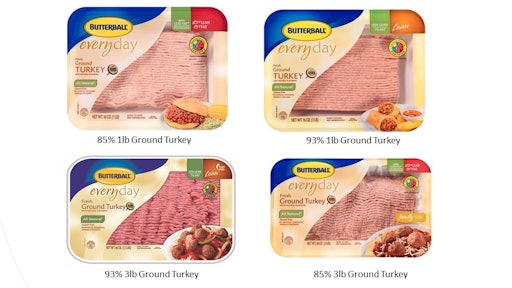 Butterball
Ground Butterball Turkey has been recalled after multi-state outbreak of salmonella. At least six people have fallen ill and three food banks had to get rid of the products.
Butterball has recalled 39 tons of raw turkey that is possibly tainted with salmonella and distributed to institutions and major grocery chains. The FSIS has identified four locations that received the recalled product: Second Harvest Heartland in Maplewood, Minnesota; Food Bank of Central & Eastern NC in Raleigh, North Carolina; and St. Joseph Food Program in Menasha, Wisconsin.
In a release from Butterball, the company said, "Because these products were packaged nine months ago, it is highly unlikely any of the product will be found in retail stores, but it is possible that consumers may have product in their freezers." The recalled product would have a use-or-sell-by date of July 26, 2018. Turkey can be stored unopened in the freezer for up to three years and still be safe to cook.
Produced July 7, 2018, the following Butterball prepackaged raw ground turkey products are being recalled (all have "EST. P-7345" inside the USDA mark of inspection):
48-oz. plastic wrapped tray containing "BUTTERBALL everyday Fresh Ground Turkey WITH NATURAL FLAVORING (85 percent LEAN/15 percent FAT)" with sell or freeze by date of 7/26/18, lot code 8188, and UPC codes 22655-71555 or 22655-71557 represented on the label
48-oz. plastic wrapped tray containing "BUTTERBALL everyday Fresh Ground Turkey WITH NATURAL FLAVORING (93 percent LEAN/7 percent FAT)" with sell or freeze by date of 7/26/18, lot code 8188 and UPC code 22655-71556 represented on the label
16-oz. plastic wrapped tray containing "BUTTERBALL everyday Fresh Ground Turkey WITH NATURAL FLAVORING (85 percent LEAN/15 percent FAT)" with sell or freeze by date of 7/26/18, lot code 8188 and UPC code 22655-71546 represented on the label
16-oz. plastic wrapped tray containing "BUTTERBALL everyday Fresh Ground Turkey WITH NATURAL FLAVORING (93 percent LEAN/7 percent FAT)" with sell or freeze by date of 7/26/18, lot code 8188 and UPC codes 22655-71547 or 22655-71561 represented on the label
48-oz. plastic wrapped tray containing "Kroger GROUND TURKEY FRESH 85 percent LEAN – 15 percent FAT" with sell or freeze by date of 7/26/18, lot code 8188, and UPC code 111141097993 represented on the label
48-oz. plastic wrapped tray containing "FOOD LION 15 percent fat ground turkey with natural flavorings" with sell or freeze by date of 7/26/18, lot code 8188 and UPC code 3582609294 represented on the label