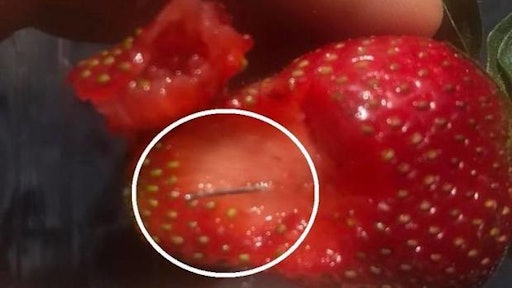 In September, Australia faced a serious strawberry contamination after dozens of packages were found to have needles hidden inside them, causing damage to some consumers' mouths.
The contamination sparked a nationwide panic as stores pulled the fruit off shelves, crafting stores removed needles from its websites and even some farmers destroyed their crops. The initial crime, and several copycat attacks, prompted Australia to raise criminal penalties for fruit tampering.
CBS reports that on Sunday My Ut Trinh, a worker at one of the strawberry farms where the tampered fruit was grown, was arrested and charged with seven counts of contaminating goods.
Trinh was allegedly motivated by spite and revenge when she contaminated the berries, CBS reports. She was denied bail after prosecutors said she could suffer retribution for her alleged actions.
Trinh was a supervisor at the Berrylicious and Berry Obsession farm. Investigators gathered strong evidence against Trinh, including DNA samples.
According to CBS, police collected 230 reports of strawberry contamination across the country, affecting 68 brands. However, some cases were found to be a hoax or a false complaint, with police having to question two minors over incidents.
The Queensland Strawberry Growers Association have welcomed the arrest and said in a statement, "It was a crisis driven by social media and the only real victims were the strawberry growers, and to some extent other Australian fruit growers and exporters."
There has been no reports whether police have arrested those that participated in copycat attacks.