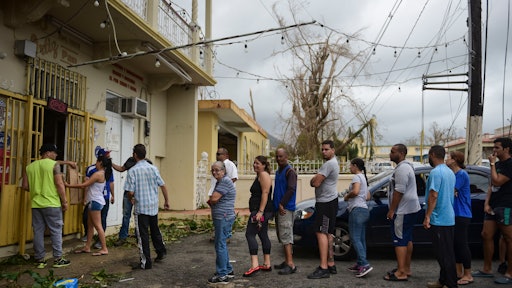 After Hurricane Maria ripped through Puerto Rico, one thing was clear: citizens needed food.
For this task, the Federal Emergency Management Agency (FEMA) called on to Tiffany Brown, who had no experience in large disaster relief, for help. Brown previously had five government contracts cancelled with her company, Tribute Contracting LLC FEMA awarded Brown $156 million for her efforts.
Tribute had only delivered 50,000 meals to Puerto Rico by Oct. 23 when 18. 5 million were due. FEMA solicitation required self-heating meals, and the ones that Tribute had delivered were packaged separately from the pouches used to heat them. This error caused Brown's contract to be terminated.
Lawmakers are now questions FEMA's decision to contract Tribute after past failed contracts and their overall handling on the natural disaster. Officials are seeking to subpoena and document that FEMA has with Tribute, causing critics to say that the action is "premature."
FEMA insists that no meal has been missed due to the Tribute contract. However, FEMA relied on other sources to help deliver emergency aid to Puerto Rico.
Hurricane Maria had Puerto Ricans struggling with access for food and water in the aftermath. Nearly 85 percent of Puerto Rico's food is imported and ports were shut down. Farms were flattened and supermarkets lost electricity and had no access to diesel to run their generators. Stores that were able to be up and running had little stock to provide hungry citizens. Puerto Ricans relied heavily on emergency aid. Food Logistics reported on how rumors of emergency aid distribution would end on Jan. 31.
After Tribute's failure to provide meals, their contract was terminated citing late deliver for approved meals. Brown alleges that there was no specification from the agency that meals and heaters needed to be distributed together. She is currently seeking a settlement of $70 million.
Brown believes that she could've delivered the 30 million meals by Nov. 7, two weeks after her contracted deadline.
"They probably should have gone with someone else, but I'm assuming they did not because this was the third hurricane" Brown said to the New York Times in reference to Hurricanes Harvey and Irma. "They were trying to fill the orders the best they could."
To read the full original article, please click here.