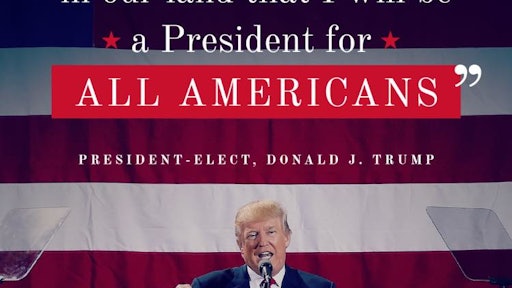 President-elect Donald Trump's intention to make good on a promise to spend massively on infrastructure has come under fire going into the New Year.
The rebuilding of the nation's aging roads, bridges and airports were a larger part of Trump's job-creation strategy throughout the election, but lately, lobbyists have cast doubt on his proposal, fearing it will not be the grand plan they'd expected.
Senate Majority Leader Mitch McConnell tried to tamp down expectations last week, telling reporters he wants to avoid "a $1 trillion stimulus." And Reince Priebus, who will be Trump's chief of staff, said in a radio interview that the new administration will focus in its first nine months with other issues like health care and rewriting tax laws. He sidestepped questions about the infrastructure plan.
In a post-election interview with The New York Times, Trump himself seemed to back away, saying infrastructure won't be a "core" part of the first few years of his administration. But he said there will still be "a very large-scale infrastructure bill."
He acknowledged that he didn't realize during the campaign that New Deal-style proposals to put people to work building infrastructure might conflict with his party's small-government philosophy.
The mixed signals on infrastructure have lobbyists and lawmakers puzzled.
"We're worried," said Brian Turmail, a spokesman for the Associated General Contractors of America, which represents more than 26,000 construction companies and 10,500 service providers and suppliers.
"Are we hearing signs that people just don't know what the plan is?" he asked. "Or signs that people don't want any kind of plan? We don't know the answer."
Continue reading at www.bigstory.ap.org/42810cc7616d44028f91259711a117ba?mod=djemlogistics.