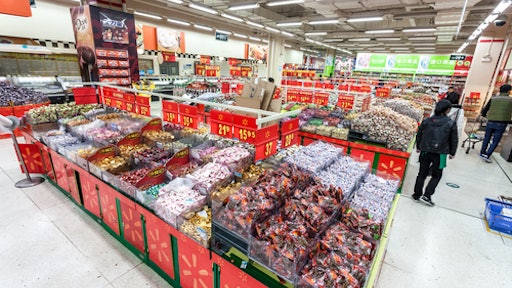 Wal-Mart Stores Inc. and its foundation announced they are investing $25 million over the next five years in food safety research in China, as the world's largest retailer looks to increase its foothold in the country more than two years after it was hit by high-profile product scandals.
The funding together with the Walmart Foundation will support projects in applied science, education and communications, according to the Bentonville, Arkansas-based retailer at a briefing held in Beijing, where it also launched the Walmart Food Safety Collaboration Center to bring together local and international research.
"By bringing together the best food safety thinkers from across the food ecosystem, from farmers to suppliers, retailers to policy regulators, we'll accelerate food safety awareness and help make Chinese families safer and healthier," Wal-Mart Chief Executive Officer Doug McMillon said at the event in Beijing on Wednesday.
The new center will facilitate research in areas such as the root causes of food-borne illnesses, and developing solutions for China's food supply chain. It also announced Wednesday three projects including one that brings U.S. and China academics together with local poultry producers Fujian Shengnong Food Co., New Hope Liuhe Co. and Guangzhou Jiangfeng Industry Co. to study safety in poultry supply chains.
To read more, click here.