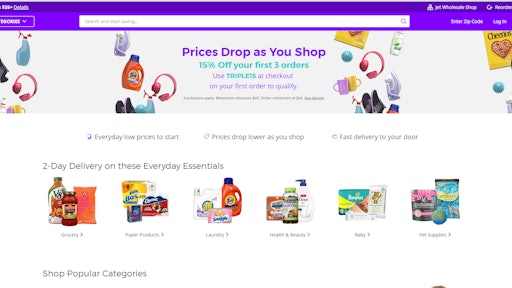 Wal-Mart Stores Inc is in talks to buy Jet.com, a year-old online rival, as part of a multibillion-dollar revamp of its e-commerce division aimed at boosting online sales growth, reported Reuters, which cited a Wall Street Journal report.
Wal-Mart spokesman Greg Hitt declined to comment and Jet could not be immediately reached for comment.
The world's largest retailer is playing catch up with Amazon.com Inc. on distribution and technology. The acquisition could give it access to Jet.com's innovative pricing software, its network of warehouses and customer data.
Wal-Mart disclosed a total of $3.1 billion for e-commerce and digital projects, such as its platform and new warehouses, in the four fiscal years to January 2017.
Wal-Mart acquired a majority stake in Chinese e-commerce firm Yihaodian in 2012 but sold it in June to JD.com Inc, which is China's second-largest e-commerce company.
To read more, click here.
Editor's Insight: This development reflects the degree to which e-commerce has disrupted traditional retail. Wal-Mart is reportedly prepared to pay more than $3 billion for a company that is just over one year old that has developed a unique e-commerce software that can offer a lower price based on order size and proximity of merchandise to customer.
Wal-Mart has also pledged $2 billion to strengthen its e-commerce sales and has acknowledged that e-commerce has sucked the wind out of its growth. The company has invested in new fulfillment centers and has rolled out a two-day free shipping service.
Wal-Mart's e-commerce investment includes local food delivery and curbside pickup. Grocery e-commerce is growing in double digits, despite the low-profit margins. In September, Food Logistics will examine how the food supply chain is addressing omnichannel fulfillment. 8-4-16 By Elliot Maras