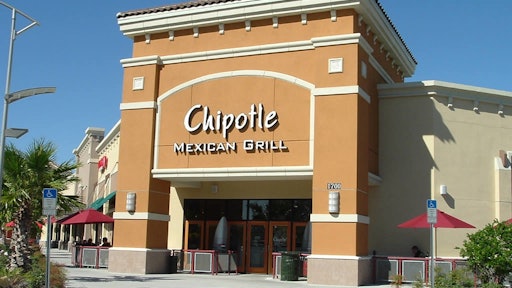 Boston media sources are reporting that Chipotle has closed a Massachusetts store temporarily after several employees got sick, at least one with a confirmed case of norovirus, according to consumeraffairs.com.
The move appears to be a preemptive one, in the wake of the company's well publicized and damaging E. coli outbreak late last year. In December, a Boston-area Chipotle was shuttered for a while after customers – including some Boston College basketball players – came down with norovirus after eating there.
In the case of the Billerica, Mass., restaurant, no customers have yet been reported sick. WBZ-TV reports that the company closed the restaurant after an employee was diagnosed with norovirus and two others reported similar symptoms.
WBZ quotes Sandra Giroux of the Billerica Board of Health as saying she believes the restaurant is doing everything possible to clean up the facility and reopen. Sanitation trucks arrived on the scene late Tuesday and work is expected to continue for the rest of the week.
Reuters quotes a Chipotle spokesman as saying no customers have reported getting sick, and that employees at all Chipotle restaurants have been instructed to never report for work when they are ill.
After last year's E. coli outbreak, which occurred in several states, Chipotle's profits and stock price took a severe hit. The company has responded by implementing what it says are enhanced food safety practices.
"Over the last few months, we have been implementing an enhanced food safety plan that will establish Chipotle as an industry leader in food safety," Steve Ells, founder, chairman, and co-CEO of Chipotle, said in a January statement. "Most of the new protocols are already in place, thanks to the hard work and dedication [of] our excellent restaurant teams. Additionally, we have implemented unprecedented food safety standards with our suppliers, which make the food coming into our restaurants safer than ever before."
Some industry analysts have speculated the very qualities prized by Chipotle customers have made the chain more vulnerable. The company promotes organic, natural, and fresh ingredients from local sources. Those kinds of supply chains, it is said, can be more difficult to monitor.