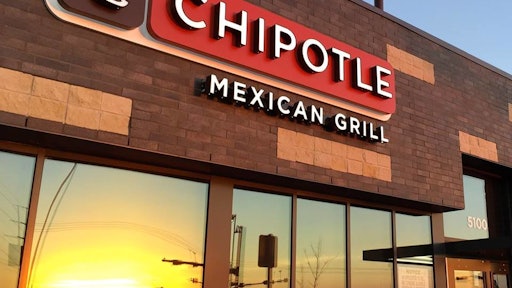 At least 120 Boston College students and others from the surrounding community who ate at a local Chipotle have been sickened by norovirus, a fast-spreading bug that causes violent stomach illness, according to USA Today.
The outbreak comes as the school's 14,000 students – more than half of whom live in dorms – prepare for final exams, which begin Saturday. The school issued a health alert Wednesday, saying it would redouble cleaning in common spaces and close salad bars and other self-serve cafeteria areas.
Norovirus, the leading cause of illness from contaminated food in the U.S., spreads rapidly and can be transmitted from person to person, and through food and contaminated surfaces. Last year, a Royal Caribbean cruise ship had to return to port after some 700 passengers and crew fell ill.
Chipotle has been beset by norovirus and E. coli outbreaks in the past year.
In August, a Chipotle restaurant in Simi Valley, Calif. was temporarily closed after 80 customers and 18 employees reported systems of Norovirus. The restaurant was reopened after restaurant operators did a deep cleaning of the store.
Also in August, Minnesota health and agriculture officials reported an outbreak of salmonella among customers of 17 different Chipotle restaurants located primarily in the Twin Cities metro area. Minnesota Department of Health officials cited tomatoes as the cause of outbreak, which affected 64 customers. Nine of those sickened customers were hospitalized.
In 2008, another Chipotle case near Kent State sickened 509 people from norovirus.
To read more, click HERE.