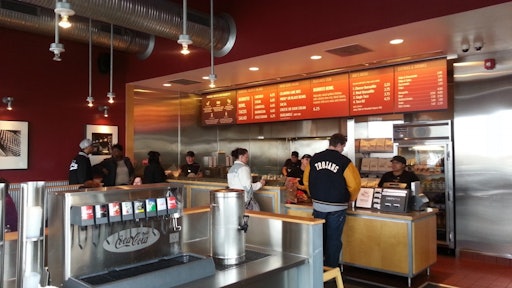 Boston College said that 80 students, including members of the men's basketball team, got sick after eating at a Chipotle restaurant, according to CNN.
The Massachusetts Department of Health has been notified and is working to determine the cause of the apparent gastrointestinal illness.
The news comes amid an E. coli outbreak linked to other Chipotle Mexican restaurants that has made people sick in at least nine states since October.
"We do not have any evidence to suggest that this incident is related (to) the previous E. coli incident. There are no confirmed cases of E. coli connected to Chipotle in Massachusetts," Chipotle said in a statement.
The company temporary closed its Cleveland Circle location in Boston, where the students ate, while health officials investigate.
The number of students presented with gastrointestinal symptoms rose to 80 on Tuesday, according to Boston College spokesman Jack Dunn. The students, who said they ate at the Chipotle restaurant, have been tested and results will not be available for at least two days.
The Centers for Disease Control and Prevention said last week that 52 people in nine states -- Illinois, Maryland, Pennsylvania, California, Minnesota, New York, Ohio, Oregon and Washington -- have become ill in the E. coli outbreak.
To read more, click HERE.
Editors Insight: Food illness has hammered one of the rising stars of the U.S. foodservice industry – Chipotle Mexican Grill – a development that should concern the entire food supply chain. Chipotle shares took a 7 percent dive in response to recent food poisoning incidents and the full extent of the damage has not been determined.
Food Logistics reported as recently as Friday that Chipotle was tightening its food supplier ingredient testing standards in an attempt to control the damage of the earlier E.coli outbreak that has sickened people nationwide. The company revised its website to emphasize its supplier relationships over local sourcing.
The most important lesson for food supply chain is that Chipotle is not a slouch when it comes to managing its supply chain. The company took carnitas off of its menu over the past year in many restaurants because it could not find a pork supplier that met its standards for free-range pork.
The company has also espoused stringent food safety practices. The fact that it has not been able to contain food illness outbreaks underscores the extent of the food safety challenge confronting the supply chain.
The Food Safety Modernization Act (FSMA) has been developed to improve food safety in the U.S. The regulations include standards for auditing imported food. The FSMA has taken a long time to develop and many if not most of the regulations will not take effect for more than a year.
Another food safety problem facing the food supply chain is how the new FSMA standards will be enforced. The FDA does not have the resources to enforce the rules, according to industry observers.
Globalization has delivered a bigger safety challenge to the food supply chain than many envisioned. Food industry organizations need to brainstorm ways to address the problem. The industry cannot afford to wait for the government to get its act together. 12-9-15 By Elliot Maras