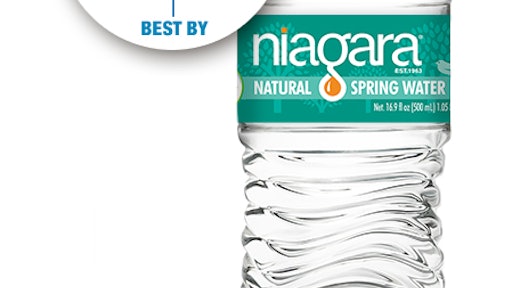 Niagara Bottling LLC has recalled all spring water products produced at its two Pennsylvania facilities between June 10 and 18, 2015, after being informed that the water source was potentially compromised by E. coli bacteria, according to Food Safety News.
Niagara stated that the bacteria were found on June 10, noting, "As the spring source did not notify us in a timely manner, we have discontinued the use of this source."
The company added that no reports of illness or injury had been received to date, and that finished product testing had not detected any contaminants or other issues.
The bottled water has Niagara Bottling LLC on the label and is sold under the following brand names: Acadia, Acme, Big Y, Best Yet, 7-Eleven, Niagara, Nature's Place, Pricerite, Superchill, Morning Fresh, Shaws, ShopRite, Western Beef Blue, and Wegmans.
Stores recalling the bottled water products include Wegmans, ShopRite, 7-Eleven, Acme and others.
According to a notice posted June 19 by Niagara, the recalled water should be boiled for one minute and cooled before being used. "Boiling kills bacteria and other organisms in the water," the notice stated. Consumers may also return the recalled product for a full refund, the company stated.
To read more, click HERE.