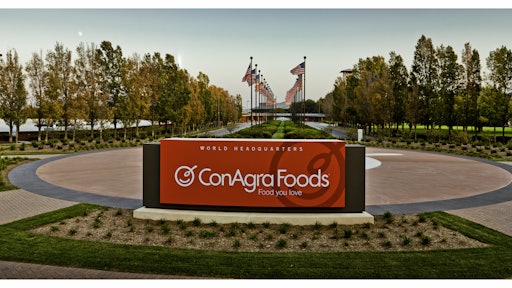 A ConAgra Foods Inc. unit agreed to pay a record fine and plead guilty to a federal misdemeanor charge stemming from a 2006-2007 salmonella outbreak, according to Dow Jones Newswire. The rare criminal case spotlights how stepped-up enforcement of food-safety laws is shaking up the industry.
ConAgra Grocery Products LLC will pay $11.2 million to resolve allegations that the company shipped contaminated peanut butter under its Peter Pan brand and Wal-Mart Stores Inc.'s Great Value label. The salmonella contamination sickened more than 700 people.
The fine--the largest ever levied in a food-safety case--marks the latest in a string of successful efforts by the Justice Department to hold food companies or their executives accountable for outbreaks of foodborne illnesses that, added together, have sickened thousands.
Since 2013, the Justice Department has won convictions or guilty pleas in four criminal cases against food companies or the executives that ran them. All of the cases fell under the 1938 Federal Food, Drug and Cosmetic Act. By contrast, that is roughly the same number of convictions or guilty pleas as the agency landed under the same act in the 24-year-period from 1988 through 2012.
In most of the recent cases, the Justice Department has successfully prosecuted defendants for introducing contaminated food into the market even without proof that officials acted with criminal intent--a nuance that has jolted the food industry, given its broad implications.
The agency's actions have sparked greater awareness in corporate boardrooms and many companies have stepped-up efforts to bolster food safety, according to industry executives and lawyers. Some companies have invested in new technologies to prevent the build-up of bacteria in plants and to enhance and speed up data collection and analysis.
To read more, click HERE.