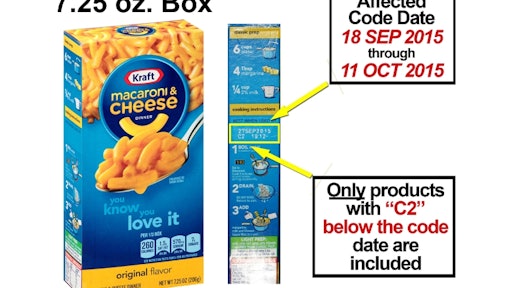 Kraft Foods is pulling back 6.5 million boxes of its macaroni and cheese product after it was found that some of those boxes contain small pieces of metal.
This recall comes just days after a recent listeria outbreak linked to Blue Bell Creameries ice cream. This bacteria doesn't merely cause run-of-the-mill food poisoning—it has the potential to be deadly. In fact, in this most recent case, it may have contributed to the deaths of three people.
Rachel Tepper, an associate food editor at Yahoo, discusses what people should do with the leftover carton of Blue Bell ice cream in the freeze or an empty blue box of mac and cheese in your trash bin.
First off, don't freak out, Tepper notes. She consulted with Marianne Gravely, a technical information specialist with the USDA's meat and poultry hotline, who fields all sorts of questions from panicked consumers on the regular.
Although recalls for various foods are often handled by different agencies—for instance, the FDA might recall an ice cream product, whereas the USDA generally recalls raw chicken breasts — Gravely's advice is applicable to any of them. Below, is a guide to navigating a food recall.
1) Make sure that what you purchased is exactly the product being recalled.
2) Figure out why the food is being recalled.
3) Think: Did you cook the recalled product thoroughly?
4) Toss it out.
5) Talk to your grocer.
6) If you feel sick, see your doctor.
To read more, click HERE.