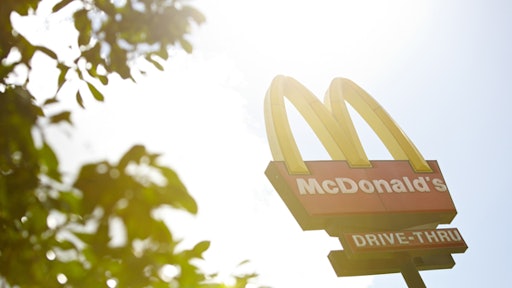 A union-backed group is calling for McDonald's Corp. to be held accountable under federal rules for worker-safety violations at its franchised restaurants, expanding a continuing effort to reduce historical protections for corporations operating under franchise arrangements.
The group, Fast Food Forward, backed by the Service Employees International Union, announced on Monday a series of complaints it has filed to the Occupational Safety and Health Administration alleging violations by 19 McDonald's franchisees and nine McDonald's Corp.-owned stores. The group has prepared a detailed legal argument that it hopes will persuade OSHA to cite McDonald's Corp. for violations that OSHA might find at independently owned restaurants. It aims to present the argument to OSHA in the next few weeks.
Mary Vogel, executive director of the National Council for Occupational Safety and Health, said on a conference call Monday that the group's theory is similar to one that OSHA uses to hold multiple employers responsible in temp- worker situations. OSHA, she said, "looks at which company has some control over the working conditions, and certainly McDonald's does in many of these franchises," she said. The council, which advocates for workplace safety, has helped to advise the fast food workers' campaign.
However, such an action would still likely be unprecedented, as experts believe corporate entities haven't been cited by OSHA for franchisee violations in the past.
McDonald's released a statement Monday saying that the company and its franchisees are committed to providing safe working conditions, and it will review the allegations.
A spokeswoman for OSHA said the agency couldn't comment on an ongoing investigation. "Until we perform the investigations, we can't know whether there are any violations, much less whether it's appropriate to cite the franchiser as well as the franchisee," she said.
The attempt to shift more responsibility for workplace safety to the corporate level is part of a larger effort by Fast Food Forward, which has been helping organize fast-food workers' protests for higher wages and better workplace conditions. That effort has so far mainly included a series of claims to the National Labor Relations Board that have sought to hold McDonald's Corp. and other companies jointly accountable for labor violations at their franchisees.
The National Labor Relations Board's general counsel last year made a legal determination that McDonald's could indeed be treated as a so-called "joint employer" in certain labor complaints, and in December issued complaints that named the corporation along with its franchisees, alleging they violated rights of restaurant workers who participated in activities to improve wages and working conditions. The NLRB general counsel's office said its investigation found that McDonald's, through its franchise relationship and its use of resources and technology, "engages in sufficient control over its franchisees' operations, beyond protection of the brand, to make it a putative joint employer."
If the finding holds up, it could fundamentally reshape the relationship between big retailers and their franchisees. The International Franchise Association trade group says such a shift puts the industry at risk. The increased liability could lead corporations not to renew franchise agreements and run more stores themselves, hurting the business model that has traditionally allowed entrepreneurs to become small-business owners, it says.
The worker groups say that holding corporate brand-owners responsible is the only way to actually enforce labor laws since the larger companies have so much control over day-to-day decision-making, with brand standards extending not only to the physical appearance of the restaurant but also to specific decisions that affect employees.
The complaints announced Monday are part of a larger strategy by the union-backed group to win fast food employees a $15 hourly minimum wage and the right to form a union without retribution. The group has helped organize protests at McDonald's and other chains and file a high-profile lawsuit for alleged wrongful termination at McDonald's restaurants in Virginia.
In a complaint to OSHA, one worker at a store in New Orleans said that he or she "got burned when cooking on the grill almost every shift," according to a statement reviewed by The Wall Street Journal.
"Grease pops up from the seasoning on the grill and it burns my hands and arms," the worker wrote. "We have no protective equipment to keep us from getting burned."
In written statements and on a conference call Monday, workers said they felt pressure to work faster, contributing to safety problems, and that stores lack protective equipment and safety training, and that first aid kits often lack basic items such as burn cream.