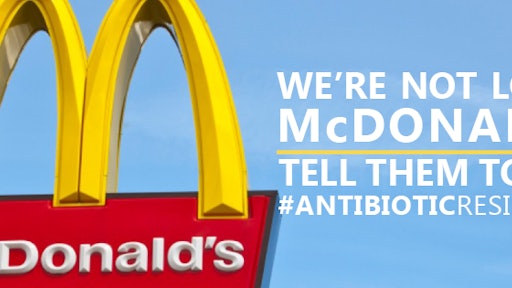 ShareAction, U.K.-based responsible investment charity, has launched an online action enabling people to email Steve Easterbrook, the CEO of McDonald's Corporation, calling on him to stop the routine use of antibiotics in the company's global livestock supply chains.
McDonald's initially set promising targets addressing, to varying degrees, antibiotic overuse in American and European poultry supply chains – but has yet to tackle use in beef, pork or dairy supply chains, the campaign claims.
Twenty-two percent of McDonald's shareholders recently voted in favor of a shareholder proposal coordinated by U.S. shareholder activism groups As You Sow and the Interfaith Center on Corporate Responsibility (ICCR), which called for an end to the routine use of medically important antibiotics. So far, the company has failed to provide a meaningful response to that suggestion, ShareAction noted.
Emma Rose from the Alliance to Save Our Antibiotics said: "The evidence is clear – if we do not curb the routine and excessive use of antibiotics, both in medicine and in livestock production, we face a global public health crisis. McDonald's has an opportunity to demonstrate global leadership by committing to phase out the routine use of antibiotics entirely – not just limited to chicken in its US market – and doing so would drive up standards across the industry."
Editor's Insight: This global email campaign has generated a massive amount of media coverage, which will serve to bolster the pressure on McDonald's to take bigger steps to remove antibiotics from livestock. The anti-antibiotics movement is beginning to replace the anti-GMO movement as the focus of activists efforts to impact food industry practices, and food companies are responding in similar fashion by acquiescing to the pressure regardless of what science has to say.
In the case of GMOs, the food industry agreed to a nationwide GMO labeling rule despite a report from the National Academies of Science, Engineering and Medicine that, based on 900 studies and reviews of the disease data, there is no evidence of human health effects from the embrace of genetically modified crops.
The food industry will have to find ways to sustain the ability to follow sound science in the face of activist pressure.
The Center for Food Integrity notes in a recent blog that responsible use of antibiotics in livestock farming does not mean completely eliminating antibiotics. Antibiotics can be misused, but that does not mean they don't have a role to play in food safety. To read the blog, click here. 8-12-16 By Elliot Maras