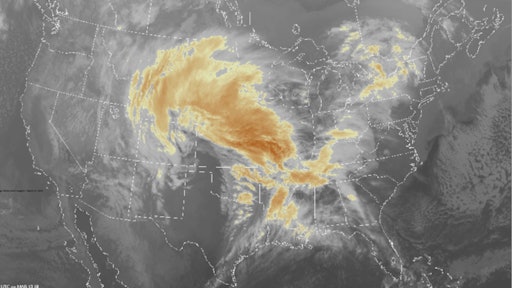 Tragedy struck the American Midwest this year when a winter weather phenomenon known as a bomb cyclone punched through Nebraska, Iowa and Missouri. Communities were cut-off, houses disappeared under 15 feet of water, and sadly—people lost their lives. Generations of hard work were washed away in a matter of days and, unfortunately, the impact isn't over yet… the consequences will continue to appear for months, if not years. 
At the time of this writing, a month has passed since the events of Winter Storm Ulmer. The historic flooding ripped through the region washing away roads, damaging rail lines and bridges, and for a time bringing barge traffic to a virtual standstill. On the heels of this catastrophe, supply chain risk intelligence experts at Resilience360 (R360) reported an analysis of the immediate and long-term impacts for customers and markets.
The R360 report reveals that over the last month, repair crews have struggled through harsh conditions and their own logistical nightmares getting supplies, equipment and personnel in place. In a short time, these men and women have accomplished a great deal. But while the damage to the regional transportation infrastructure is rapidly repaired, they are not out of trouble yet.
Having been in the food logistics world for a while now, I thought I had a grasp on cause and effect in our industry, but I was shocked by the April 2nd report: the analysis of the ongoing potential risk is sobering but hopeful. The R360 team not only detailed the what, how and why of the disaster, but delivered thoughtful insights on what to consider while planning for the coming months and years.
Here are just a few key takeaways:
Heavy losses are likely to trigger a wave of insolvencies. In total, Nebraska authorities currently estimate damages/losses to:
 Roads, levees and other infrastructure ($449 million); agricultural crops ($440 million) and livestock ($400 million).
Flooding will likely continue through the spring which has implications for the coming year's production due to currently high-water levels, an abundance of unmelted snow and potential heavy rain incidents.
While our transportation infrastructure recovers quickly, significant damage was reported:
An estimated 200 miles of road have been damaged, including the Interstate 29 closure.
The Spencer Dam collapse closed the US-281 river crossing and triggered evacuations.
Fourteen northern Nebraskan bridges have been compromised.
Railroad repairs are causing 3- to 4-day rerouting delays.
In the wake of these devastating floods, food logistics distributors and suppliers should reassess the resiliency of their suppliers and customers in the region to ongoing flood events, including diverting shipments, changing modes, anticipating additional truck shipment transit time and delays for rerouted rail shipments, and ensuring adequate local supplier staffing and viable shipment routes. Looking forward, stakeholders are likely to face higher ground transportation costs while local, state and federal agencies ensure infrastructure is repaired.