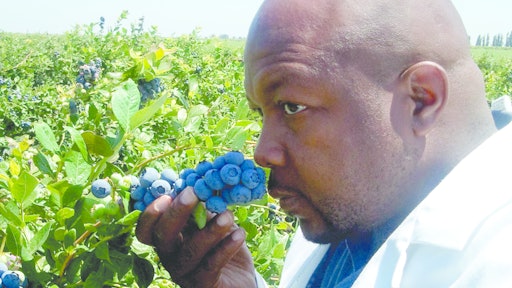 Food safety and security has moved firmly to the forefront in our industry in recent months, thanks in part to some high profile disasters that remind us how much work remains to be done. However, while salacious stories and shortcomings make for juicy headlines, there are plenty of achievements that quietly continue to percolate behind the scenes, rightly deserving our recognition.
Our eclectic list should help instill some peace of mind regarding the safety and security of the global food chain, despite the panic that occasionally arises in some areas.
Antimicrobial Grocery Checkstand Belts
Antimicrobial-coated products, like conveyor belts at the grocery cashier's checkstand, help prevent the spread of mold, mildew, fungus and bacteria. Good Armor is the leading manufacturer of the antimicrobial-coated belts in the supermarket environment. The company embeds silver particles in the surface of a product to create the antimicrobial coating. Not only is it a simple and relatively inexpensive way to enhance food safety, but it also serves as a moving billboard for advertisers who want to reach a captive audience. Handstand Innovations, owner of MessageWrap, prints and installs customized antimicrobial-coated belts at supermarkets like Michigan-based Spartan Stores.
Bumble Bees
In late 2006, the rapid rise of Colony Collapse Disorder among Western honey bee colonies in North America served as a wake-up call to the critical importance of these insects when it comes to food security, considering about 75 percent of food crops require pollination. Researchers have also determined that while domestic honeybees play a role in pollination, the heavy lifters in the equation are bumble bees.
Cage Free Eggs
You know it qualifies as a "movement" when fast food chains start to embrace it, and so it is with cage free eggs and the overall efforts related to the humane treatment of farm animals. A study by Technomic, a food industry research firm, found that animal welfare is the third most important social issue to restaurant goers, behind buying local and organic. In response, chains like Wendy's, Burger King and Whataburger are making improvements in the food supply chain. Not surprisingly, animals that are raised more humanely tend to be healthier.
Cold Train
Rail Logistics' Cold Train hit the tracks in 2010, moving refrigerated produce between the Port of Quincy in Washington state and points in the Midwest and East Coast. It's one of several refrigerated produce services that operates via rail—a testament to both the service reliability of rail, and modern refrigerated equipment and technology that keeps produce fresh.
More produce shippers are using rail, too. This year, Rail Logistics will open a new Cold Train office in downtown Chicago to meet growing demand, while the company recently tripled its fleet to 300 53-foot refrigerated containers.
Deloitte Center for the Global Food Value Chain
In January, Deloitte launched its Center for the Global Food Value Chain, which was established to "help companies understand and address quality and safety issues, changing regulations, market trends, supply chain risk, operational impacts, and use of business analytics to improve performance." The Center's resources include Webcasts, links, and a Web site chock full of material for the food industry.
Dr. Barbara Rasco, School of Food Science, Washington State University
Dr. Rasco has a good way of getting noticed, not only is she active as a speaker and educator in the industry, she immediately captures an audience's attention when she casually mentions some rather scary statistics regarding the vulnerability of the food supply. For starters, in the U.S., few states produce more than 30 percent of what the residents eat; and most cities have only a five-day food supply. Furthermore, the average person's food travels 1,300 miles from farm to table. And how about this—employees pose one of the greatest risk when it comes to food safety, with most incidents resulting from labor disputes, extortion or revenge against a co-worker or company.
In addition to helping raise awareness in the industry, Dr. Rasco is collaborating with other researchers to develop chemical marker methods for predicting the adequacy of food pasteurization and sterilization treatments.
Berry producer Driscoll's adheres to a rigorous food safety program based on the FDA's Good Agriculture Practices (GAPs) principles reinforced through education, laboratory assays and annual third-party audits. Its independent farmers are leaders in Integrated Pest Management, which relies on natural and synthetic means to control disease and pests.
Driscoll's also puts a lot of emphasis on tracking and tracing. Its "Follow Us to the Farm" program lets consumers digitally track the 12-digit HarvestMark code on the clamshell package to learn about the farm where the berries were grown and other information. Meanwhile, if a recall were to occur, the company's barcode-based inventory tracking system can identify the field and harvest date for all its berries.
Ecolab
Given the food safety concerns associated with China, it's timely that Ecolab opened its third-largest facility in the world there last August. Ecolab's Taicang plant will manufacture a range of products for the Chinese market, including products used for food and beverage production, food retail, and dairy, meat and poultry processing.
In addition to enhancing food safety, the company's products and services extend to water, hygiene and energy technologies. The company also excels in sustainability. Ecolab earned a spot on the Carbon Disclosure Project's S&P 500 Carbon Disclosure Leadership Index in 2012 for the third straight year.
Ecosystem-based Adaptation
Food security is becoming more worrisome as the world's population grows and the effects of climate change grow more pronounced. One way to address the challenge is through ecosystem-based adaptation, described as "the use of biodiversity and ecosystem services as part of an overall adaptation strategy to help people and communities adapt to the negative effects of climate change at local, national, regional and global levels," according to Dr. Richard Munang with the United Nations Environment Programme, in a recent article published in The Guardian. An ecosystem-based adaptation (EbA) approach benefits communities by providing "food security (from fisheries to agroforestry), sustainable water management, and livelihood diversification (through increasing resource-use options)," he explains.
Eindhoven University of Technology
Researchers at Eindhoven University of Technology in the Netherlands announced in February that they had invented a plastic analog-to-digital converter (ADC) that could "test" whether the food inside a package was safe to eat. The ADC is a breakthrough when it comes to food safety and food waste, considering that millions of tons of food are thrown out each year because the "best before" date has passed even though the product is safe for consumption.
Europe's Horse Meat Scandal
The horse meat scandal in Europe is was not so much about food safety per se, but about food supplier fraud, which is equally troubling. Over the past few months, traces of horse meat have turned up in ground beef sold in numerous European grocery stores and restaurants. Meanwhile, a recent study by professors at South Africa's Stellenbosch University found goat, donkey and water buffalo in samples of locally-produced sausages and hamburgers.
FDA's First Mandatory Recall Under FSMA
On February 13, the FDA exercised its newly assigned recall powers under the Food Safety Modernization Act when for the first time it issued a mandatory recall against Kasel Associates Industries, Inc. of Denver after the agency found salmonella at the company's manufacturing facility.
"The FDA always had the power to issue their own notices to the public, even if they couldn't force a recall," the United Fresh Produce Association's Ray Gilmer told The Packer. But, this mandatory recall certainly marks a milestone.
Food Safety Audits
Food safety audits help manufacturers identify areas of their operation that need attention, from pest management to equipment and facility cleaning to employee training. The result is a safe, hygienic manufacturing environment and a competitive differentiator in the marketplace. With more rigorous food safety regulations coming down the pike, more companies are relying on food safety auditors to help them comply with new rules and steer clear of fines and penalties.
Food Safety Modernization Act
The Food Safety Modernization Act (FSMA), signed into law in January 2011, ushers in sweeping changes pertaining to inspection and compliance, and imported food safety and response, even though the "ushering" part is going painfully slow for many in the food industry. Like most legislation it's not perfect, but it's definitely a step in the right direction for the food industry and consumers.
Fresh Origins
California-based Fresh Origins, which grows microgreens and edible flowers, made the news recently after a third-party food auditor gave the company a perfect score for the second straight year.
It's just a part of everyday operations for David Sasuga, the company's founder, who told Food Logistics: "We are proud to have made food safety a principle objective of our business activities. The benefits go way beyond the obvious and help build a solid core of practices that are demonstrated to produce results that can be structured, monitored, and recorded for success." Furthermore, this creates "a culture where we can apply these principles to many aspects of our business resulting in better management, employees, products and customer satisfaction. We find no particular difficulties in following food safety guidelines and practices," he added.
GFSi
The Global Food Safety Initiative (GFSi) was launched in 2000 to bring together various players in the food supply chain with the goal of improving food safety for consumers worldwide. Indeed, the genesis for the organization followed "a number of food safety crises when consumer confidence was at an all-time low," according to the GFSi's Web site.
Now, the organization has participation by big name companies like Cargill, Walmart, Carrefour and many others who are committed to collaborating with logistics partners and others to help promote food safety throughout global supply chains.
GM Food
Is genetically modified food safe to eat? Should GM food be labeled as such so consumers know what they're buying in the supermarket? What are the effects of GM crops on the agricultural system? The topic has become widely discussed over the past few years and is another example of how consumers are increasingly becoming more interested—and involved—in what is contained in their food, how it's grown and produced, and what potential effects in poses to their personal health and the health of the environment.
Hand washing
Improper hand hygiene is the leading contributor to food-borne illness. Yet when it comes to hand washing by restaurant staff, non-compliance rates are as high as 73 percent, according to the FDA. The foodservice industry is making progress to reduce food-borne illness outbreaks caused by dirty hands with more diligent training, signage in employee areas, and access to properly equipped hand washing stations.
HydroPack
Just like safe food, clean water is also essential for humans. Assuring a safe water supply is especially challenging in third-world countries or in areas hit hard by a natural disaster when water supplies are disrupted. Hydration Technology Innovations (HTI), Modern Edge and Eastman worked together on the HydroPack, a paper-thin, four by six inch pouch that uses forward osmosis to transfer dirty, polluted water into clean 12-ounce sources of hydration. Compared to bottled water, the HydroPack is incredibly light and therefore extremely cost effective to transport, warehouse and distribute.
iFAAM
The European Commission is putting 9 million euros behind a global project known as iFAAM—Integrated Approaches to Food Allergen and Allergy Risk Management—which brings together food companies, researchers and others to improve and standardize the labeling of food allergens. Professor Clare Mills from the UK's University of Manchester, who is spearheading the project, explained, "The evidence base and tools that result from this will support more transparent precautionary 'may contain' labeling of allergens in foods, which will make life easier for allergy sufferers as they try to avoid problem foods."
Indiana's Crackdown on Hot Trucks
Last summer, Indiana State Police put a full court press on refrigerated food trucks whose loads exceeded the proper temperature range. The crackdown followed implementation of an Indiana state law on July 1 that make it a Class A infraction to transport food that is more than two degrees above the acceptable temperature, shows obvious signs of contamination or spoilage, or is loaded in such a way that risks cross-contamination. Tons of spoiled food was destroyed during the crackdown.
The pressure is on to improve the tracking of perishables through the cold chain and companies like Intelleflex are developing data visibility solutions that help curb food waste, provide asset tracking, and comply with more stringent state and federal regulations surrounding food safety. Intelleflex's ZEST Data Services combined with its XC3 Technology multi-protocol RFID readers and tags can monitor temperature on a pallet of berries at the field level, then send actionable data via cellular networks to the distribution center or other location for real-time monitoring as it moves through the supply chain and to the grocers' shelves.
Irradiation
Zapping food with ionizing radiation can help kill dangerous pathogens and even keep fruit fly pests in check, but it's not without controversy. Some countries only allow it for dried herbs and spices, while in Brazil any food can be irradiated. In the U.S., Public Citizen and other consumer groups raised concerns that irradiation could be used mask food that is spoiled or otherwise alter the food's taste or chemical make-up.
Keepin' It Cold
Cold chain technology makes it possible to keep food chilled or frozen (and controlling for other environmental variables, like humidity and carbon dioxide levels) whether it's being transported across town or across the globe. Companies like Carrier Transicold, ThermoKing, Great Dane, Utility Trailer, Purfresh, Envirotainer and others continually perfect refrigerated equipment and technology for air, ocean, road and rail shipments—keepin' it cold and safe.
Mad Cow Disease
The fatal neurodegenerative disease known as mad cow disease, which is easily transmitted from affected cattle to humans, peaked in the UK three years ago, killing 166 people by October 2009. By comparison, deaths in the U.S. have numbered in the single digits, yet the fear associated with mad cow disease has not subsided. Considering that mad cow disease is spread primarily through industrialized cattle-raising methods, whereby cattle are fed animal byproducts rather than plant-based feed (their natural diet), it continues to fuel the debate over the limits and practices of modern food production.
Monsanto
In recent years, Monsanto has come under increased criticism for its growing domination in the area of genetically modified crops and enforcement of biological patents, which many argue have given the agribusiness giant a global monopoly on seed production and weed and pest control. The company's "terminator technology," which produces plants that have sterile seeds, remains highly contentious. Just last month, a provision to the Agricultural Appropriations Bill for 2013, which extends new protections to genetically modified seeds, drew complaints from food safety advocates who charged the rider (nicknamed the "Monsanto Protection Act") was quietly passed by the U.S. House of Representatives and received no review from either the Agricultural or Judiciary Committees.
The independent, non-profit organization NSF International provides standards development, product certification, auditing, education and risk management in the areas of food, water, health and consumer products. Over the past 69 years, NSF International has expanded from its start as the National Sanitation Foundation at the University of Michigan's School of Public Health to a network of laboratories throughout the U.S., Europe, South America and China.
Peanut Corporation of America
A Salmonella outbreak that sickened at least 700 people and killed 9 in late 2008 and early 2009 was traced back to the Peanut Corporation of America. In February, four executives from the company pleaded innocent to federal criminal charges that included fraud, conspiracy, and the introduction of adulterated food into interstate commerce with the intent to defraud or mislead. Former CEO Stewart Parnell's infamous email, in which he wrote "S---, just ship it," in reference to a customer's shipment that was being help up pending results of a Salmonella test, didn't help the company's case in the court of public opinion.
Pink Slime
Lean finely textured beef (LFTB) doesn't exactly sound unappetizing, but when it's called by its other name, Pink Slime, the response is "Yuck!" A report by ABC News in March 2012 found that 70 percent of ground beef sold in American supermarkets contains Pink Slime, which is added to ground beef as filler. It's made from "low-grade beef trimmings and other meat by-products such as cartilage, connective tissue and sinew," states Wikipedia, which is heated, liquefied, treated with gaseous ammonia, ground up and compressed into pellets or blocks then flash frozen before being shipped off for use as an additive.
ABC News' report not only exposed what all goes in to America's ground beef, it demonstrated the power of social media and how quickly a potentially damaging story can fo viral. Beef Products Inc. (BPI), one of the largest producers of Pink Slime, has since filed a lawsuit against ABC News.
The industry group, which represents companies from every segment of the global produce and floral supply chain, is keen on helping members navigate complex regulations and understand and use the latest food safety research. In 2008, the PMA established the Produce Traceability Initiative (PTI) in conjunction with United Fresh Produce Association and the Canadian Produce Marketing Association.
Rapid Testing
One of the most promising advancements related to food safety is the increasing number of quick, affordable testing kits on the market. Celsis International, DuPont Qualicon and others offer products that not only keep consumers safe from tainted food, but help food manufacturers more quickly get new products to the marketplace. For example, a rapid product release screening test from Celsis International delivers definitive results 80 percent faster than traditional microbial methods, In addition, the company's Rapid Detection system helps manage data and recordkeeping for reporting and compliance purposes.
Rocky Ford Growers Association
The Rocky Ford Growers Association wins the prize for successfully turning around a public relations nightmare and reestablishing consumer confidence in the cantaloupe industry following an outbreak of Listeria in 2011 that killed 33 people and sickened dozens more. Although the outbreak was traced back to Colorado's Jensen Farms, about 90 miles from the Rocky Ford growing region in the southeastern part of the state, the damage to the cantaloupe industry at large was severe. Rather than keep a low profile until the news item faded from consumers' memory, the Rocky Ford Growers Association launched a campaign to educate consumers while simultaneously investing in better oversight and food safety measures at the farms and packing houses.
Packaging is a critical component when it comes to food safety, and Sealed Air's Cryovac and Diversey brands are aimed at extending shelf life, reducing food waste and protecting brand image. Sealed Air's Grip & Tear packaging materials not only help extend shelf life, it improves user safety and reduces cross-contamination at home, and in the foodservice and deli environments by reducing the use of knives for opening packages.
The National Restaurant Association's ServSafe, a food and beverage training and certification program, is required by most restaurants as a basic credential for their management staff, according to Wikipedia, and is a good first step in raising food safety awareness for kitchen staff, servers and others handling food. More information is available on their Web site at www.servsafe.org.
Solve the Outbreak App from the CDC
The Centers for Disease Control and Prevention (CDC) has launched a clever way to engage a tech savvy audience, who must play the role of a disease outbreak investigator assigned to "Solve the Outbreak" via an interactive app, which can be downloaded from the iTunes store. According to the CDC, "The app, which is targeted to consumers, provides a game-like interface and works to incorporate tips and definitions along the way, to make learning about epidemiology fun. Outbreaks may be fictional or based of a real event that CDC employees have worked on."
When you're the largest coffee company in the world, the way you approach sustainability and sourcing in the supply chain has a significant impact on the environment, workers and consumers, and peers in the business community. It also correlates to global food safety and security. In recent months, Starbucks has made several important announcements that show the company's commitment and responsibility in these areas. In February, the company said it would only use sustainably sourced palm oil in 100 percent of its products globally by 2015 (Currently, the company only uses sustainably sourced palm oil for products in the U.S. and EU). Palm oil is used in half of all consumer goods, but growing demand has forced cultivation into the rainforests, making the crop one of the primary causes of rainforest destruction. Then last month, Starbucks announced that it would invest in a new farming and research center in Costa Rica, which is part of its larger plan to source all of its coffee ethically by 2015.
When Pigs 'Swim'
China has earned a poor reputation when it comes to food safety and despite some genuine improvements in government oversight, it will take some time for the country to firmly position itself in a more positive light. The latest incident involving 16,000 dead and diseased pigs floating in the Huangpu River near Shanghai isn't helping China's case. Pig farming is big business in China these days. In 2011, the country produced and consumed half the world's pork. But, safe and ethical farming practices haven't kept up. It's believed a government crackdown on illegal butcher shops that buy dead pigs from farmers was behind the dumping of carcasses in the river instead of properly disposing of them.
WEF's New Vision for Agriculture
The World Economic Forum's New Vision for Agriculture initiative brings together representatives from the public and private sectors at the global level to develop sustainable agricultural systems for the future. By 2050, there will be 9 billion people to feed on the planet, while agricultural systems will face even greater pressure from water scarcity, climate change and land constraints. Better logistics, new technologies, advanced agricultural techniques and other solutions are all part of the holistic approach that's needed to feed a growing world population.
YottaMark
YottaMark operates the HarvestMark platform, which is used by over 400 companies and more than 3,000 farms to track and trace fresh food. The company has made great strides in traceability throughout the entire food chain, "from seed to store to kitchen," according to HarvestMark's Web site. Growers also use the company's solutions to comply with the Produce Traceability Initiative (PTI), while consumers respond with more loyalty to brands and stores that carry produce tagged with HarvestMark labels.