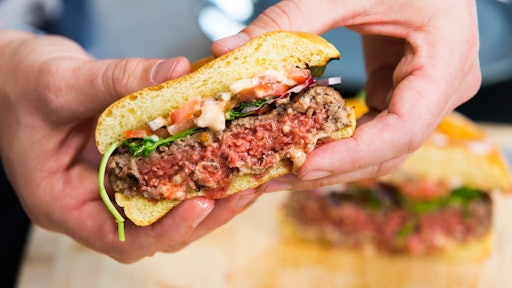 Impossible Foods
A vegan customer has sued Burger King, alleging the company is contaminating its meatless Impossible Whoppers by cooking them on the same grills as its traditional meat burgers.
Phillip Williams allegedly bought an Impossible Whopper at an Atlanta drive-through and claims that he would not have paid a premium price had he known the cooking would leave the sandwich "coated in meat by-products," Reuters reports.
According to Tech Crunch, an Impossible Whopper costs $5.59 while the company's signature Whopper burger costs $3.49.
Reuters reports that the lawsuit is seeking damages for all U.S. purchasers of the Impossible Whopper and an injunction requiring Burger King to "plainly disclose" that Impossible Whoppers and regular burgers are cooked on the same grills.
On Burger King's website, it states that a non-broiler method of preparation is available upon request for guests that are looking for a meat-free option.
"For people who are strictly vegan, there is a microwave prep procedure that they're welcome to ask for in any store," Dana Worth, Impossible Foods' head of sales, said in a recent interview.