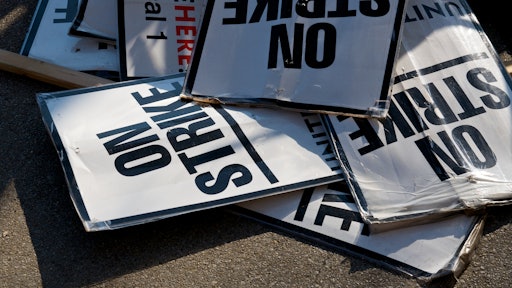 Getty Images
Following in the footsteps of employees in Oregon and Washington, grocery workers in Wisconsin voted to authorize a strike against UNFI/SuperValu.
The Green Bay Press Gazette reports that drivers and warehouse workers at the UNFI distribution center in Ashwaubenon, Wisconsin have authorized a strike in response to contract dispute.
The Teamsters Local 662 voted on Aug. 24 to reject a six year contract that would reduce health care benefits. However, the vote doesn't necessarily mean that the union will strike.
"The company has come after their insurance to make them take a lesser plan. And my members are telling me, no, that's not what they're going to do," said Tom Strickland, trustee/business agent for Teamsters 662, which serves 42 Wisconsin counties and has offices in Mosinee, Green Bay and Eau Claire
Now, almost two months since the union voted to strike, a new contract has been approved by thousands of Midwest grocery workers.
The new contract reportedly strengthens wages, protects and expands healthcare. In addition, it also protects and increases pensions for Hormel workers across the country.
"By strongly voting for a new contract that improves wages and benefits, thousands of our hardworking members sent a powerful message this week about the power that comes from workers standing together," Local unions for UCFW representing Hormel said in a statement. "This contract not only rewards hard work, it provides affordable healthcare, strong pensions, and critical benefits that ensure our UFCW members are able to build the better life they've earned. For millions of Americans, this contract ensures that they can continue to count on our members for the high-quality Hormel products they feed their families every day."
UNFI/SuperValu has reportedly been negotiating with the Teamsters since May, arguing that the contract "continues to include a Teamster-sponsored health care plan that minimizes associate increases and reduces the family premium contribution beginning in the second year."
This article has been updated to reflect current information.