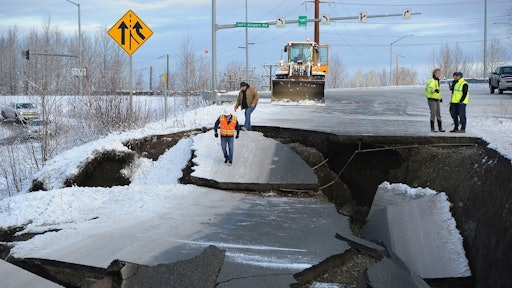 Anchorage was hit with a magnitude 7.0 earthquake on Friday morning, swaying the city's buildings and fraying citizens' nerves. Luckily, the food and beverage supply chain delivered to the port of Anchorage was not disrupted by the major event.
Roads are continuing to take the brunt of the damage, stalling traffic. Delays also came as drivers attempted to avoid road damage on temporary detours or reduced highway lanes.
The Fresno Bee reports that 90 percent of all goods sold in Alaska are delivered to the port of Anchorage. While there were some structural concerns after a preliminary damage assessment, the port reported that everything seems to look good. Currently two major cargo companies operate at the port and both have successfully unloaded products following the quake.
The city is still estimating the supplies they have on hand until their next shipment arrives later this week. However, officials encouraged citizens to not rush grocery stores as there was no reason to hoard food.