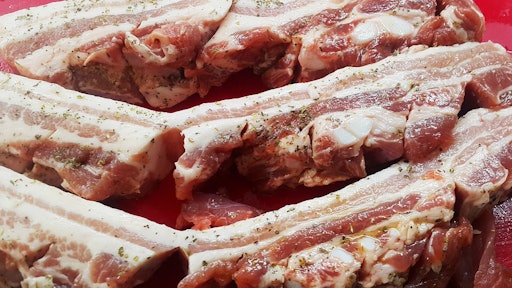 American ham and other products are suffering from duties as high as 70 percent. The industry is facing a border-line standstill in pork exports to China.
After repeated cries for help from the White House, the Trump administration announced that they would be dishing out $12 billion in aid to farmers affected by the tit-for-tat tariffs.
However, tariffs aren't just affecting farmers. Businesses across the country are feeling the effects from the tariffs.
Chuck McCarthy, who runs a cold storage meat warehousing business in North Carolina tells NPR, "We're a relatively new company. We've been very busy the first year and a half, but have noticed a change since the tariffs with China and all have started." His biggest customer was sending him $100,000 worth of pork products to ship to China per month. Since the tariffs started, McCarthy explains that the pork stopped coming in.
"They said their company was not packing anything for China as a result of the political situations that were going on," McCarthy tells NPR. The sudden hault has put a strain on his business.
NPR reports that the economy is strong overall despite the tariffs affecting a small fraction. Even refrigerated warehouses and the shipping industry is succeeding even though some members may be getting hurt.
President of the Global Cold Chain Alliance, Corey Rosenbusch, tells NPR that most refrigerated warehouses are packed full with products that are not affected by the tariffs. Demand for storage has been increasing despite the tariffs.
So far the tariffs aren't affecting most the economy, but industries are still worried that the damage that has been done can only get worse if the administration follows through with more tariffs.
To read the full original article, please click here.