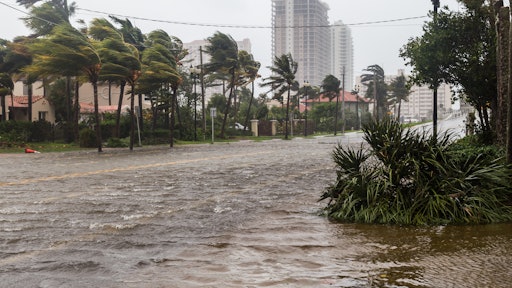 Satoshi Kina AdobeStock_171083541
Many in logistics are accustomed to thinking about severe weather as a "seasonal" concern. But as climate changes, every month should be considered a potential "storm month" — this means you must monitor and track severe weather in any region at any time and have reliable, rapidly actionable plans in place for when extreme conditions do arise.
The first step for shippers is to be proactive in planning for such disruptions by knowing what kinds of weather events you might face and the fallout they may cause.
In North America, the primary weather-related causes of transportation delays are:
Hurricanes. Hurricane season runs from June through November in North America, typically with more dangerous storms occurring in the latter part of the season and impacting the South, Southeast and Eastern seaboard of the United States.
Fires. While historically fires typically occur in the dry months from late summer into October in the U.S. and Canadian West, this year we've seen disruptive fires affect Eastern states since late spring.
Winter storms. Typically occurring in the Northeast and Midwest U.S. and across Canada in the winter months, snow and ice accumulation can disrupt infrastructure and close facilities. We've also seen winter weather impact nontraditional regions such as Texas in recent years.
Tornados. Peak tornado season runs from May into June and businesses located in "tornado alley" are at a higher risk, but even if a warehouse isn't in the direct path, it could still be residually impacted. First and foremost, ensure you have an active warning system, and all employees know where to shelter. Ensure to have backup suppliers ready and different transportation options available.
Flooding. Water precipitation can be severe, especially when rainfall occurs suddenly with high volume and force. For instance, coastal areas can experience rapid and intense downpours during tropical storms or hurricanes, causing rivers and streams to overflow their banks. In such situations, shippers need to exercise caution and stay updated with the weather forecasts and flood alerts. They should consider rerouting shipments away from flood-prone routes and low-lying areas. Proper contingency planning, including access to alternative transportation modes and safe storage facilities, can significantly mitigate the impact of flooding on shipping operations.
Extreme heat. High summer temperatures, particularly in arid regions like the Southwestern U.S., can overtax the power grid, cause disruption to facility operations, and create dangerous conditions for warehouse workers and drivers.
We're also seeing increasing incidents of more volatile variations on typical seasonal weather, such as the winter rains that caused flooding throughout California this past year.
Each of these threats can trigger mass evacuations and re-entry protocols; close land, sea and air transportation lanes; and leave areas debilitated for weeks, months or years. If you do not have a backup plan in place, you could be facing a major disruption to your supply chain.
6 long-term strategies for severe weather preparedness
Put these six processes into place so you're not caught off-guard the next time severe weather threatens your supply chain.
1. Know your supply chain from top to bottom. Know your suppliers' suppliers. It's called a supply "chain" because every piece of it is fundamentally interconnected, so if weather events impact ocean transit for material that goes into parts you purchase from a supplier, for instance, you'll want to be prepared with backup options.
2. Assess year-round risks to your supply chain. Let's take the extreme heat we've experienced this summer as an example. We've seen heat waves cause daily blackouts across multiple regions in North America. Even the savviest of food and beverage customers with facilities in these regions have already assessed their networks and collected data on the warehouses with the highest probability of power loss. They've locked in refrigerated capacity and emergency refueling to ensure their product remains fresh or frozen during times of disruption.
3. Build strong relationships with providers. Your ability to mitigate any threat quickly starts with the relationships you form in the pre-planning stage. Maintain close contact with the carriers, steamship companies and airlines that move your freight or utilize a broker who already has these relationships in place. This will allow you to call upon different resources depending on the situation with confidence that your providers will want to come through for you.
4. Source alternatives. Plan alternative routes and/or staging areas in regions that are likely to be disrupted by weather. If there's only one economical route in the region, focus your attention on backup stock instead. If possible, keep 2-4 weeks of extra stock on hand to anticipate the recovery time from a hurricane or similar event.
5. Communicate with end customers. Make your customers aware that you have assessed your risks and think they should do the same. Let them know what weather events could impact them and how to mitigate potential downtime.
6. Work with an experienced 3PL. Third-party logistics providers (3PLs) have unique relationships with carriers, warehouses and strategic vendors. If you need a large amount of product moved, a 3PL can identify which carriers and/or modes are best suited and likely buy that bulk capacity at a better rate than you could as a stand-alone shipper. Asset-light 3PLs can also provide agile pop-up solutions such as last-minute power only capacity, rental trailers, drop trailers or temperature-controlled equipment solutions.
Above all else, remember that logistics professionals are all operating in each other's industries whether they like it or not. Weather events can have a cascading effect beyond their immediate area of impact, such as the way a cluster of late departures can limit performance across multiple regions and industries.
At the end of the day, human relationships are still the most important factor in navigating any of these challenging scenarios. Laying the groundwork to maintain an established rapport with people or organizations you can call on a moment's notice will save time and energy when severe circumstances are rapidly approaching.