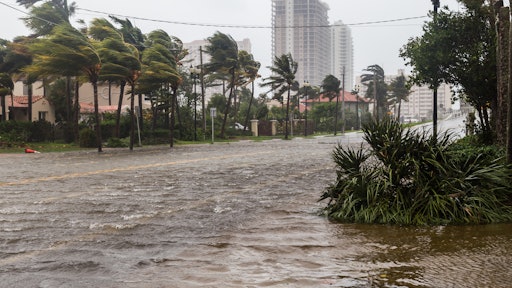 Satoshi Kina AdobeStock_171083541
Today's transportation landscape is continuously evolving, and 2022 has not been an easy year for transportation and logistics companies.
With inflation, rising gas prices, supply chain shortages and lowering freight prices, adaptation through efficiency has become crucial. Add the impacts of changing weather events, new compliance and training regulations, and ongoing health and safety hazards, it is becoming increasingly difficult for companies to keep track of all their assets in one place.
During the hunt for asset management solutions, many companies don't even realize that there's one tool available to help them unlock unknown potential. By adding integrated risk management software (IRM) to a company's tech stack, they can reap the benefits of managing supply chain and logistics risk with artificial intelligence (AI)-based software.
Why use integrated risk management software?
Unfortunately, corporate risks produced by climate change are often misunderstood. There are multiple ways that climate change can threaten transportation and logistics companies, including operational risks, business interruption risks, programmatic risks, human capital risks as well as route and infrastructure risks.
Studies have shown that extreme weather events such as the hurricanes in the Southeast/Caribbean and floods in Mississippi are becoming more frequent and severe due to human-induced climate change.
In addition to the immediate damage and destruction caused by such extreme weather events, natural disasters can impact businesses and the economy, resulting in long-term impacts. In 2021, natural disasters were responsible for $280 billion in losses in the United States alone. In 2022 year to date, we have had $29 billion in geo-climate loss events.
IRM software is equipped with the technology to help transportation and logistics organizations predict and mitigate day-to-day risks. In fact, the right IRM and geospatial software can help companies:
• Track and report on claims for both property and assets
• Conduct root cause investigations
• Manage fleets
• Report incidents from anywhere on the road
• Track and manage driver safety and compliance
Integrating geospatial analytics into IRM software, can also add visual context to traditional data to help with effective planning, monitoring and management of the complex systems required for effective transportation planning and management. This combination results in powerful insight that can help enterprises predict and mitigate the short- and long-term effects of weather events like hurricanes, forest fires and floods. This includes the development of maps that can:
· Provide information about location, weather patterns and geography that may impact a future weather event
· Highlight patterns, trends, and aggregations, such as proximity, distance, affiliation and contiguity via geo-fencing
· Send real-time alerts to employees via SMS or email to safely direct drivers and fleets out of harm's way through new routing or full avoidance of extreme events
Outside of extreme weather events, more traditional, day-to-day weather patterns are changing as well. Though there may not appear to be an immediate impact, repeated extra rainfall or higher wind speeds can have an overall affect long-term by slowing down fleets through weather-related accidents and road hazards. IRM software and geospatial analytics can assist with planning around these types of weather-related forecasts as well.
Benefits of using IRM software and geospatial analytics
The right IRM software can provide more than just risk management and data-based analytics and insight. By using IRM software, transportation and logistics companies can reduce their total cost of risk (TCOR) by 4-9% and achieve a potential risk management cost savings of 10-15%. Over time this allows a company to focus the time and cost savings on other aspects of the company's day-to-day operations.
IRM and geospatial software adds a layer of asset management intelligence that many companies might not even realize they're missing. By utilizing the technology in supply chain and logistics, businesses are able to make informed, data-driven decisions to prevent damage to physical assets, employees and valuable goods.