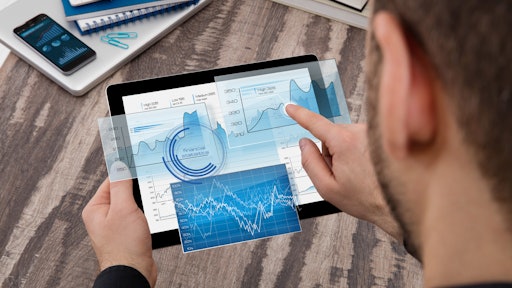 Getty Images
The Coronavirus disease (COVID-19) pandemic shocked both the world and the global supply chain. Shortages that started in China in February 2020 were soon felt worldwide, and the global economy shutdown in March exposed massive vulnerabilities in production, spanning nearly every industry. Yet, it won't be just the pandemic at fault for continued supply chain disruption.
The more significant threat is severe weather. Beyond events like hurricanes, winter storms and wildfires causing port closures and shipment delays, the impact of weather on the supply chain is felt more acutely because of the fact that more people now live in areas most prone to weather disasters. Additionally, consumers have grown accustomed to quicker delivery speeds at the same time as suppliers have shifted to just-in-time manufacturing models that promote near-zero inventory. With very little raw materials on hand for an extended period, even the slightest hiccup in the process can cause major problems throughout the supply chain, including delays to other manufacturers in addition to consumers.
Here's how weather affects the supply chain and what businesses can do to prepare in the event of a delay.
Fighting fire with jet fuel
As if the historic drought facing the Western United States weren't enough to make this year's wildfire season a challenge, a jet fuel shortage could now impact firefighting efforts.
Demand for jet fuel decreased during the pandemic in response to significantly less air travel, and in response, jet fuel supply fell 38% compared to 2019 pre-pandemic levels. By April 2021, air travel had rebounded, with TSA reporting an average of 1.4 million travelers per day, up from 87,500 a year prior, but jet fuel inventories remain low. Planes and helicopters are vital in combatting deadly wildfires, but they need jet fuel to do so. The continued lack of jet fuel means fewer planes drop fire retardants, posing more danger to communities in a wildfire's path.
At the same time, as wildfire season suffers from supply-chain shortages, it also creates them, specifically with lumber production. No other state produces as much softwood lumber as Oregon, and while Alaska has the largest amount of forested land in the United States, Oregon and California follow closely behind. The Dixie fire in Northern California has spread to more than 570,000 acres as of mid-August 2021, and while Oregon's Bootleg fire is now fully contained, it ravaged more than 400,00 acres. Lumber prices have spiked as a result, and producers have cited numerous supply shortages due to extreme wildfire conditions.
From fresh fruit to fish: The impact of heatwaves
This summer, the Pacific Northwest and the East Coast have experienced abnormally high temperatures, putting numerous cities under heat advisories, including Seattle, Portland, Ore., Boston, and New York. Each heat wave sent farmers scrambling, picking crops before they could rot on the vine. One farm near Spokane, Wash., was forced to pick its entire strawberry crop within just a few days, a process that would typically take up to three weeks.
Similarly, fisheries worked to keep their fish populations safe from too-warm river water, and salmon especially became increasingly vulnerable. To protect the fish (and a multibillion-dollar fishing industry that stretches from Oregon to Alaska), scientists physically transferred 350,000 salmon and facilitated the early release of 5 million more into the Columbia River.
Unfortunately, it doesn't appear as though these severe heat waves are going away anytime soon. A study by Environmental Research Communications found that the frequency of extreme heat in the United States is projected to increase significantly over the next 5-10 years.
As hurricane season ramps up, so do supply chain concerns
For businesses located outside hurricane-prone areas, big storms are often the last thing they think about when evaluating supply chain risk. Yet hurricanes impact all areas of the country, not just coastal regions. Oil, gas and other fuels can be in short supply, and disruptions to transportation cause further supply-chain challenges.
For example, Hurricane Katrina knocked out power and transportation routes all along the Gulf Coast. After Hurricane Harvey, 13 oil and gas refineries had to shut down entirely or partially in Texas. As a result, U.S. gasoline production dropped by 10%. Trucking fleets, railroads and shipping lines were also impacted, with the storm halting nearly 10% of the U.S.'s trucking capacity. Retailers around the country struggled to secure goods, and shipping costs rose significantly.
As we enter the peak of the 2021 hurricane season, researchers at Colorado State University predicted another active year with a large number of named storms. We've already seen the devastating effects of Hurricane Ida in Louisiana and across the East Coast, with severe flooding and tragic loss of life as far as New York and New Jersey. What's more, many believe Hurricane Ida will further strain the supply chain with delivery trucks being redirected toward recovery efforts and refineries and warehouses along the Gulf that are responsible for critical materials for numerous industries having to shut down temporarily.
4 things your business can do to prepare
With weather conditions bouncing from one extreme to the next, each has the potential for a considerable economic impact. According to the National Oceanic and Atmospheric Administration, 22 weather and climate disasters last year caused economic damages totaling at least $1 billion. But, it's not just companies in the path of extreme weather events that need to consider preparations.
To ensure your business stays up and running no matter the disaster, you first must understand your organization's unique risks. Identify which threats pose the greatest danger to your business based on where your offices and employees are located, where your suppliers operate and which industry you're in. Each of those factors will determine how you should account for business interruptions and potential delays and how to communicate with suppliers in the event of an emergency.
Second, build an emergency plan. Now that you've identified each of the threats that may impact the business, outline priorities before, during and after an emergency. One of these priorities should involve creating an emergency response team – make sure to include people from various departments across your organization, including safety and security team, HR leaders, PR, etc. Each person should understand the emergency response plan goals, what is needed from them, where to get and share information and what resources and technology they have access to.
Next, practice the plan with mock drills. Make sure everyone feels comfortable with the response outlined and can remain calm during a real-life emergency. Make sure to talk through how to communicate with customers should you experience a delay in the ability to deliver a product or service.
Lastly, communication is critical. Even if you don't have an emergency preparedness plan in place, you need to have an effective communication system to let customers and employees know how to respond. If you do have a plan in place, communication is still equally as critical for execution or to pivot when inevitably something doesn't go according to plan.
With 100 things to do at all times, it's easy to ignore incidents if they're across the country (or the world) from where you are located. But, it's important to remember these events can still impact the business in a multitude of ways. To ensure you're prepared, take a proactive approach to planning for potential supply chain disruptions. Consider a business continuity plan and what actions are needed to mitigate the impacts of unforeseen events. You may not be able to do anything about impacted shipping routes or supplier locations. Still, prepare for backup vendors and institute additional procedures to keep business interruptions at a minimum.