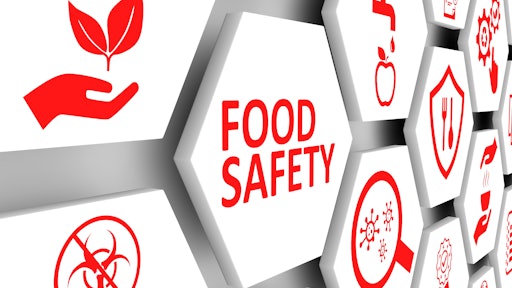 profit_image AdobeStock_226304097
Understanding the intricacies of a supply chain is immensely important during a product recall, especially when food products are involved. Most recently, the world witnessed the painful consequences for an entire product category when an infant formula recall exposed many shortcomings in one company's supply chain.
In fact, product recalls now affect everyone in a supply chain, from farmers and manufacturers to suppliers and retailers. As a result, it's now essential to establish strict traceability and record-keeping protocols, develop and update recall and crisis plans and conduct regular mock recalls to identify potential weaknesses in your recall response.
Traceability and record-keeping remain vital
Traceability is perhaps one of the most important components to ensure food safety because of the need during a recall to identify the source of contamination and determine whether other products have been contaminated. Food companies must be able to trace their products back to the partner that produced them and forward to retailers to ensure contaminated products are identified and removed from market. Meticulous record-keeping is likewise beneficial because it offers proof to regulators that you have been following rules and that you are able to trace products through your supply chain.
Digital solutions for traceability and record-keeping are growing in popularity. Some advanced traceability technology may even be able to predict disruptions in the food supply chain and help avoid food waste and shortages. But the human aspect of traceability and record-keeping is still just as important for acting on data or checking behind software failures.
Growing emphasis on being "recall ready"
Earlier this year, the U.S. Food and Drug Administration (FDA) released a finalized guidance, entitled Initiation of Voluntary Recalls under 21 CFR Part 7, Subpart C, which encourages all food and beverage companies to be "recall ready." To the FDA and many others, being recall ready means having policies and procedures in place that touch all levels of the supply chain, from the farm to the retailer's shelf.
A key component of recall readiness is preparing employees for a recall. This includes incorporating training in product safety, compliance, and recall procedures into new employee onboarding and regularly updating all their training. The FDA guidance also encourages companies to use electronic communications so that they can quickly notify suppliers, retailers, and consumers of the recalled products.
In most cases, it is also advisable to employ experienced third-party experts to prepare for and assist in managing a recall. Lawyers specializing in recalls and product-safety issues can prove to be invaluable when dealing with state and federal regulatory bodies during a crisis. Recall insurance is also recommended to cover specific recall-related claims that aren't covered by traditional property/casualty insurance.
Finally, depending on the size of your company and the extent of the recall, it's recommended to engage recall logistics and communications experts to minimize disruption to your regular business operations. Recall experts can help you manage communications with consumers related to affected products and can advise you on how to stay compliant with regulations. They can also remove contaminated products from the market or set up staging areas to collect and destroy the product.
Mock recalls verify recall readiness
Another practice that the FDA is now embracing in its recall readiness guidelines is mock recalls.
"A firm that anticipates complex recalls may want to consider additional preparatory steps, such as mock recalls, to verify the firm's recall readiness," the FDA concluded. "Mock recalls familiarize personnel with the recall process and may improve the effectiveness of the firm's recall program."
All food companies are now required to create and maintain an adequate recall plan under the Food Safety Modernization Act (FSMA) of 2011, but these plans can prove useless if they are not tested with mock recalls.
Mock recalls are the best way to test the effectiveness of recall plans and can also expose gaps in communication or oversights that could lead to problems with regulators if they occurred during an actual recall. Every individual and organization throughout your supply chain that will have a role in a recall should participate at some level in a mock recall, from producers all the way up to suppliers and retailers. The lower-stakes environment of a mock recall gives participants the opportunity to make any adjustments to the recall plan in a calm environment without the pressure of regulatory oversight and threatened litigation.
A final key consideration with mock recalls – and recall readiness generally – is that it is not a one-and-done affair. Recall plans should be updated regularly as the definition of food safety changes and new regulations are released. Likewise, employees should receive regular training on best practices in food safety and compliance, and mock recalls should be conducted annually at a minimum to test updated recall plans.
To be sure, being recall ready involves a good bit more planning, foresight and resources than it has in the past. But the consequences for failing to keep pace with the new requirements can be devastating to your company's reputation and its bottom line.