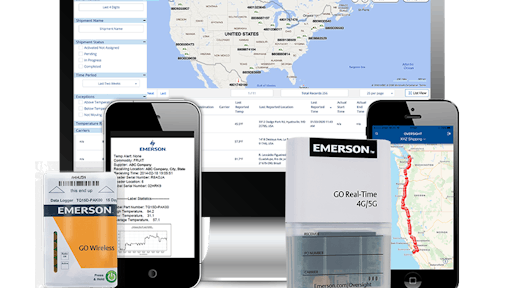 Emerson
Food retailers have long focused on ensuring food quality and safety; now consumers are increasingly concerned about these issues as well. In a recent Emerson study of 1,000 U.S. consumers, 51% said they worry about the safety of fresh and frozen foods during transportation to stores and would be less likely to shop from stores that aren't using the latest technologies throughout their supply chain to help ensure food safety.
So, the challenge for retailers has become how to meet these consumer expectations while also protecting their brand reputations. The solution? Adopt best practices that enable them to maintain strict temperature adherence for fresh and frozen products at every step of the food supply chain.
Preserving quality and minimizing loss
Delivering poor-quality perishable products or past-ripe produce only erodes customers' loyalty and gives them a reason to switch to different brands or shop at a competitor's grocery store. That's why temperature control for quality (TCQ) initiatives throughout the cold chain are critical to maximizing freshness and minimizing shrink.
If produce becomes too ripe — from poor temperature control or time-of-harvest conditions — it will naturally have a shorter shelf life. Pre-conditioned fruits such as avocados should be carefully monitored to ensure they are continuously kept at the correct temperatures.
Maintaining proper temperatures for safety
Keeping shipping temperatures at precise setpoints throughout the journey from farm to fork is critical to ensuring that food is safe to consume while preserving perishable food quality. Temperature control safety (TCS) initiatives are mainly concerned with the safe shipping of fresh and frozen meats, seafood, select produce and dairy products. If temperatures deviate from safe ranges or become too warm, the safety of fresh and frozen meat along with seafood will degrade and product will purge (or release water) initially, then begin to grow and spread bacteria, which increases the risk of foodborne illness.
Cross-contamination can also occur when meat, seafood and produce are stacked together closely within a transport shipping container or arranged on a stack of pallets, which increases the potential for foodborne illness outbreaks and customer injuries. Improper sanitization procedures between loads can also lead to cross-contamination.
Best practices for perishable food transport
So, how can grocery retailers ensure food safety and quality?
A holistic approach that considers key factors at every step of the perishable supply chain must be followed along with careful coordination among producers and shippers. Here are nine best practices for retailers to adopt from inbound harvest and transport to outbound shipping and receipt from distribution centers:
1. Pre-cooling. Stabilize product temperatures with a process after harvest and prior to loading in refrigerated shipping containers.
2. Transport refrigeration. Ensure proper refrigeration and insulation of reefer trucks and trailers.
3. Inspection. Visually inspect trailers between loads to ensure a clean and contaminant-free space.
4. Temperature stability. Maintain continuous setpoint temperatures throughout a trip; do not permit the use of fuel-saver mode or starting/stopping of refrigeration.
5. Calibration. Annually calibrate the thermistor(s) of reefer trucks and/or trains.
6. Loading. Correctly load pallets to enable proper airflow and consistent temperatures from the front to the back of trailers.
7. Load transfer and receipt. Do not allow trailers to sit in receiving docks for extended durations, especially in warm regions; limit opening of trailer doors to maintain holding temperatures.
8. Avoid mixed loads. Avoid trying to save fuel costs by mixing loads with a combination of fresh and/or frozen products with different ideal temperature setpoints.
9. Data logging. Enable the automatic capturing and recording of trip temperature data for reporting and verification of quality assurance and to help resolve disputes or questions over rejected loads.
Pick an expert partner for cold chain management
Protecting consumer safety is an ethical prerequisite for food retailers. At the same time, it's important to remember that it only takes one incident to permanently impact your business reputation and potentially incur the significant financial impacts of fines and litigation. That makes it imperative for retailers to clearly understand everything that contributes to food quality and safety throughout the food supply chain. Then, they should partner with an expert to help them deploy the modern tools and technologies needed to address the many challenges associated with perishable cold chain management.