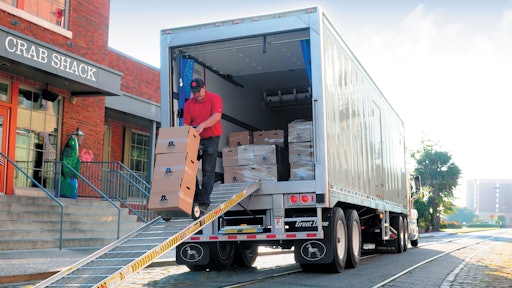 Reefer and trailer manufacturers have expanded their temperature control and green options to enhance the integrity of the cold chain, according to an article in the August Food Logistics.
The quest for absolute cold chain integrity represents the "sweet spot" for specialists in the refrigerated truck and trailer sector, who continue to improve not just their cooling systems' abilities to bring temperature down quickly after pickups and dropoffs, but are also making dramatic strides in developing "green" systems while improving access and loading capabilities.
This spring, U.K. retailer Sainsbury became the first customer anywhere to take delivery of a very special Carrier Transicold prototype – a natural refrigerant trailer unit that relies exclusively on a carbon dioxide refrigerant.
The unit is the first of three that will be incorporated into Sainsbury's fleet this year, and are part of a three-year technology field trial. The assessment follows a 2013 pilot program in which the supermarket deployed a modified version of its overland NaturaLINE refrigeration system in its ocean containers.
The prototype incorporates technology from the NaturaLINE refrigeration system into a traditional Carrier Vector unit chassis.
Like the Vector unit, the prototype will rely on the E-Drive™ all-electric technology.
David Appel, president of Carrier Transicold & Refrigeration Systems, described the delivery of the prototype as "a huge milestone in the development of over-the-road refrigeration using CO2."
"Our ultimate vision is to see temperature-controlled units running on natural refrigerant in mainstream production," he said.
Thanks to Sainsbury, he said, "we are one step closer."
To read the entire article, click here.