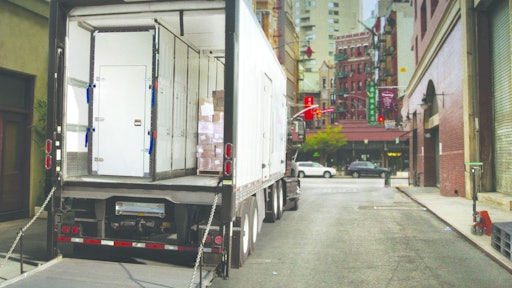 Manufacturers of refrigerated truck trailers and ocean containers are in for what is likely to be another stable year for equipment sales. Although there's plenty of freight to be moved, trucking firms are generally more conservative when it comes to new equipment purchases right now because other costs—compliance with various regulations, driver and employee costs—are taking precedence.
Yet, for those who are making new equipment purchases, their return on investment has never been better.
Smarter, lighter and longer lasting
Two of the leading refrigerated trailer and container manufacturers—Great Dane and Utility Trailer—continue to fine-tune their reefer products with improved materials, structural designs, and engineering processes that result in smarter, lighter and longer lasting equipment.
Utility Trailer, which is celebrating its centennial anniversary this year, is the largest refrigerated trailer manufacturer globally controlling about 54 percent of the market. The company offers two refrigerated trailer models, the 3000R and 3000R Multi-Temp.
While its competitors favor a panel process when it comes to insulating the trailer, Utility Trailer uses a foam mandrel process. In this process, the whole shell is built first then foam is injected using a mandrel process, which gets the foam around all the corners to help prevent moisture from entering the trailer and cold air from escaping.
Additional insulation is achieved with the company's Versitex VR2 lining that acts as a vapor barrier to keep the foam insulation dry while maintaining thermal efficiency.
Engineers also designed the 3000R reefer with a floor clipping system in place of screws to prevent moisture penetration and corrosion from occurring on the wood floors as they flexed during normal wear and tear.
Customization is also on the rise, according to executives at Utility Trailer. Some of the more common requests include tire inflation systems, more single tires, and refrigerated, multi-compartment units for foodservice applications. Customers are also asking for disc brakes and for aerodynamic features like side skirts and trailer tails.
Great Dane Trailers offers three Everest model refrigerated trailers, the TL, SS and CL. The company uses a modular panel foaming process for its reefers to ensure maximum thermal performance, superior linking adhesion and flat, smooth walls. The construction also allows for easy replacement of an individual panel if necessary.
The company's optional ThermoGuard lining is a composite material with an aluminum barrier layer that seals the insulation, blocking out air and water vapor while trapping the insulating gas within the foam. It is applied on the sides, front, ceiling and floor of the trailer, helping preserve the effectiveness of the trailer's insulation and extending its useful lifespan.
According to a company spokesman, Great Dane's engineers have also made a concerted effort to eliminate all wood in the trailers, which not only extends the reefer's lifespan by eliminating wood rot and related structural integrity issues, but also eliminates weight gain in the trailer as a result from moisture intrusion into wood floor sills and furring.
During this spring's Mid-America Trucking Show (MATS), Great Dane's exhibit booth displayed a specially built reefer trailer prototype that weighed less than 12,000 pounds. According to a company press release, "This notable goal was achieved through extensive R&D that allowed Great Dane engineers to 'push the envelope' with enhancements such as new extrusion designs, new adhesives, and a state-of-the-art foaming process that enhances thermal efficiency, trailer strength and ease of repair."
Carrier Transicold's complete family of new ultra-high performance transport refrigeration units (TRUs), all of which are compliant with the U.S. Environmental Protection Agency (EPA) Tier 4 emissions standard, also debuted at MATS this year.
"The transition to the latest platforms, each of which is manufactured at our facility in Athens, Georgia, is complete," said David Kiefer, director of sales, marketing and product management, Carrier Transicold. "With the finalization of this phase, Carrier Transicold is the first manufacturer to deliver a complete line of single and multi-temperature TRUs that are fully Tier 4 compliant."
Meanwhile, the company's Engine Emissions System (EES) reduces particulate emissions in accordance with the California Air Resources Board (CARB) ultra-low emissions requirement for TRUs using engines rated below 25 horsepower. It is the first original equipment manufacturer-developed CARB level 3+ verified diesel emissions control (VDEC) device for trailer refrigeration units. Carrier Transicold gives customers the option to include the EES with the initial purchase or add it later.