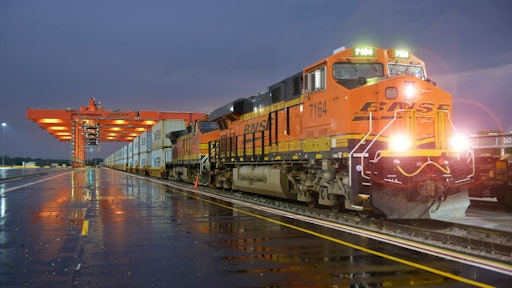 Food and beverage shippers are finding that North America's Class I railroads continue to offer an attractive and cost-effective method of transportation, while rail and intermodal providers are doing their part to support shipper demands with faster deliveries, infrastructure improvements and improved tracking capabilities, according to an article in the May Food Logistics.
Charles Penrow III, manager of U.S. logistics and U.S. DOT compliance at McCain Foods USA Inc., said the railroads have been focusing on ways to speed transit times. For example, Union Pacific has created a direct food train that originates in either California or Idaho and heads east, shaving days off of transit times.
"I think the rails are getting smarter in looking at those opportunities," he said.
Meanwhile, BNSF Railway's Expedited Intermodal Service averages a transit speed of approximately 800 miles per day.
"Our speed and consistently is especially critical to our fresh food customers who rely on us to help them extend the shelf life of their products," said Elizabeth Hill, general director for temperature controlled Intermodal for BNSF.
BNSF, based in Fort Worth, Texas, offers the only expedited service to and from Seattle and also offers expedited service to and from Chicago and St. Paul, Minn. to the Pacific Northwest, Hill said. What's more, to help speed the movement of perishable products, BNSF launched RailPASS, a mobile app designed to create an efficient and expedited gate experience for truck drivers moving loads in and out of BNSF hubs.
Railroads are also continuing to make sizeable investments in infrastructure. During 2014-15 BNSF made an $11 billion network investment, adding more than 200 miles of double-track, 875 miles of Centralized Traffic Control to help manage rail traffic, 18 new sidings and 25 extended sidings. BNSF has also made a $3.5 billion investment on its Northern Corridor route.
To read the entire article, click here.