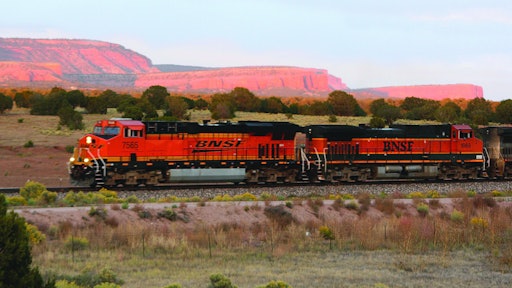 Savvy consumers today want only quality food products for their families. But they also want that quality to be available to them at a comfortable price point. What they might not know are the intricate and complex behind-the-scenes activities railroads, short lines, trucking companies, and logistics providers perform successfully every day to bring that quality food to market at affordable prices. Just about every food product you can find in your local supermarket can ship by rail today, moving thousands of miles from growing fields to community grocery shelves.
The clockwork choreography performed within the infrastructure of today's intermodal network is beyond impressive. It relies on trusted relationships between and among Class 1 railroads, short line railroads, trucking companies, food growers and processors, retailers, groceries, foodservice companies, warehousing providers, trans-load companies, and logistics and distribution companies. The goal for everyone in the food supply chain is to provide safe and cost-effective food delivery.
Here's a look at some activities folks in the industry are performing to bring consistent, reliable, safe, and affordable food logistics and transportation services to shippers.
Bustle On The Rails
First, let's address the skeptics who might have tried some type of rail or intermodal service in the distant past. "They might be skeptics because when they tried rail 20 or so years ago, it simply didn't work for them," notes Ted Prince, principal of T. Prince & Associates in Richmond, VA and board member of the Intermodal Transportation Institute at the University of Denver. "The thing to remember is that rail is a whole lot different today, offering world-class service to shippers. I think many people would be surprised by the number of food products already moving intermodally."
Railroad companies have invested a lot of time, effort, and money expanding capacity, adding terminals, purchasing new locomotives and other equipment, and double-tracking their main lines, continues Prince. "Rail also has the ability to accommodate surge demand better than truck. Today's new boxcars can handle almost 200,000 pounds of product with the new 72-foot-long boxcars. Rail provides excellent and predictable service with dedicated large unit trains. Transit times from the West Coast to Chicago are under 70 hours now."
More recently, perishable goods like produce, ice cream, frozen pizza, and fresh fruits and vegetables are moving intermodally because of the improved service reliability and faster transit times, says Steve Branscum, group vice president of consumer products for BNSF Railway Company in Fort Worth, TX. He adds that shipments of refrigerated food products are the fastest-growing segment of the company's intermodal business in percentage growth year over year.
Current deterrents haunting the trucking industry are tilting the scales in favor of intermodal rail. These include impending driver shortages, hours of service regulations, and mandatory EOBRs (Electronic On-Board Recorders). "Not only will there be a reduction in truck capacity, but a reduction in the productivity of the trucks as well and the speed at which trucks can make deliveries," notes Zach England, vice president of C.R. England in Salt Lake City, UT. "Through our double-stack temperature-controlled intermodal service, we are riding on expedited trains, the fastest in the industry. In many cases, intermodal is faster than, if not comparable to, solo truck."
Today's advanced technologies allow real-time visibility so temperatures can be monitored and controlled throughout the food supply chain. Railcars can also be monitored to assure equipment is working properly. Any equipment corrections can be done remotely.
Cool Double-Stacking For Efficiency
Branscum says that many motor carriers, comfortable with the intermodal model, are exploring the feasibility of moving food products in refrigerated intermodal containers. "This concept is new in the domestic world," he says. "Refrigerated containers have existed in international trade for a long time on ocean carriers moving around the world. But domestic markets in North America haven't seen the use of these containers until now." He adds that only a few carriers are pursuing this transportation model in the marketplace because of the substantial investment required.
C.R. England is one such motor carrier investing its money and commitment to refrigerated, temperature-controlled containers that move double-stacked. "It's a new development for us within the last several months," reports England. He says that C.R. England has been working with a number of vendors to create the company's new TempStack service—the company's newest intermodal offering to the food logistics industry.
The company had already been running 320 intermodal trailers before recently purchasing 300 temperature-controlled containers to add to its fleet. "So we are essentially doubling in size this year," England says. "We are committed to our new TempStack service, as we feel strongly that temperature-controlled container service is truly the future of refrigerated intermodal."
England reports that so far, the reception of the new service has been good. "However, there were a lot of questions from shippers because of the slightly different loading technique. But it is not difficult to overcome and customers can realize significant savings with the service."
The model is very efficient, moving two containers in the same spot one intermodal trailer would move on. "So the railroads can get more freight on their trains using the same number of trains." Another benefit relates to a significant carbon footprint reduction: about 60 percent. "This means that the equivalent emissions of about 160 gallons of diesel fuel would be saved on every load, totally approximately 3 million to 4 million gallons of emissions savings annually."
The way the service works is an England temperature-controlled container arrives on a chassis, is loaded like a normal truck, and then a short dray move takes the container from the customer's loading location to the nearest rail ramp. The chassis is dropped off and put in the pool at the rail ramp and the container is put on a train in a stacked position. It runs the length of the trip—say from LA to Chicago—where there is a truck driver waiting to marry the container to a chassis to complete the delivery by truck.
Real-time visibility is provided using StarTrak GPS tracking technology. "This allows us to control the reefer unit remotely if we need to change the settings or restart the unit if there is an issue," explains England. "We get real-time updates on temperature, location, and fuel levels. So from a technology standpoint, using rail allows us to do some amazing things." C. R. England perso
Although there are a few other companies testing these new waters, England says his company is involved on a larger scale. "We have been innovators in the industry. We had the resources and the experience dealing with temperature-controlled products on intermodal so we moved aggressively forward in this new endeavor."
C.R. England serves all the national major markets and works with all of the Class 1 railroads. "Our primary rail partner in this service is the BNSF Railway because they have such a solid network in the western region of the country," England explains. The major lanes are from California to Chicago, Texas, Atlanta, Florida, and the Northeast.
Clockwork Unit Trains
Railex offers a different platform from intermodal or manifest rail, explains Paul Esposito, senior vice president of the Riverhead, NY-based company. "We are a specific unit train of refrigerated cars traveling from a single-point origin to a single-point destination. Our logistics company picks up inventory in the short haul by truck, brings it to our warehouse, loads it into refrigerated boxcars, moves it across the country in five days, and then distributes it to destination by short-haul truck. The benefit is any shipper can move anywhere from 10 pallets to 10,000 pallets. We offer secured capacity, consistent transportation rates, and consistent service—certainly it's a service that is not your granddad's railroad anymore."
The Railex model offers four services weekly from the West Coast to Rotterdam, NY. Two services originate in Delano, CA in the San Joaquin Valley; one train departs every Wednesday and arrives every Monday evening in Rotterdam. The other train from Delano departs Friday night, arriving Wednesday in Rotterdam. Two other services originate in Wallula, WA; one train departs every Wednesday night, arriving Tuesday morning in Rotterdam, while the other train departs every Friday night, arriving Wednesday in Rotterdam.
Railex works with two Class 1 railroads: Union Pacific from the West Coast interchanges with CSX out of Chicago to points east and south. Union Pacific's fleet of 64-foot refrigerated railcars provides GPS tracking and temperature control for Railex shipments, reports John Philp, assistant vice president, food and refrigerated products for Omaha-based Union Pacific Railroad. "Our dedicated unit trains deliver shipments from coast to coast in a mere five days. We are proud to work with Railex to link growers in the West with shippers to the East Coast."
Each of Railex's three locations is supported by a refrigerated 22,225,000 cubic-foot mega-transload-temperature-controlled distribution center with multiple temperature zones. This service operates 55 new 64-foot cars with the capacity to transport the equivalent of 1,120 trucks refrigerated products every week. Railex operates 19 railcar unloading locations on the West Coast and 14 in Rotterdam. "Railcars are loaded inside cooled facilities to keep the cold chain intact," reports Esposito. "The trains stay intact throughout the journey, so products avoid shifting, bruising, temperature issues, and time delays. It's a point-to-point route similar to flying direct instead of flying with several layovers."
Esposito points out that this platform was designed with the help of the industry to fulfill a need. "When we were researching doing this in the early 2000s, we went to the industry and presented our idea to foodservice receivers, distributors, and shippers," he explains. "We asked them to poke holes in the program because we wanted to make sure we were covering all the bases. Of course, service consistency was at the top of the list. But so was security in assuring the cold chain never got broken in order to keep the integrity and freshness of the products intact. They told us they wanted visibility of their products and they wanted to be able to assure that their products were being kept at the proper temperature throughout the transit."
The company has been experiencing double-digit growth every year. "It is not just about the amount of customers we have," explains Esposito. "It is about the amount and types of products our customers are entrusting to us. When we originally began the service, we got what I call the hardware goods like potatoes, onions, and carrots. But now we are hauling broccoli, lettuce, and organics that shippers never would have considered transporting by rail. We are even moving perishables like cherries and berries. So we gained a lot of trust with our customers over these few years we've been operating."
The market is still ripe for potential growth, notes Esposito. "There are still shippers out there who had bad experiences 15 or 20 years ago with rail and said they would never use rail again. But we have managed to flip many of them. Our program is simple: we offer consistent point-to-point service while securing your products. Our facilities are under continual surveillance and our customers have the ability to trace their shipments so they know exactly where their products are at any given moment."
All Aboard!
It's clear that the intermodal network is providing more and more unique services to accommodate the requirements of food shippers. And the uncertainty over the future of the trucking industry is influencing shippers to choose rail more and more. "There is the anticipation of a major shortage of truck drivers because of HOS and EOBRs which will impact a reduction in the hours a driver can drive," says Prince of T. Prince & Associates. "The required medical checkups will also take drivers out of the equation. Then there is the issue of the California Air Resources Board, which will impose limits on the types of equipment that will be allowed to operate in California."
Shippers are continually opening up to intermodal, says England. "Whether this is because of the obstacles facing the trucking industry such as rising fuel costs, environmental concerns, lack of over-the-road capacity, or rate savings, intermodal is benefiting and the news gets better and better every day for intermodal. We at C.R. England are believers and we are investing heavily in the intermodal model. To be sure, we are putting our money where our mouth is."