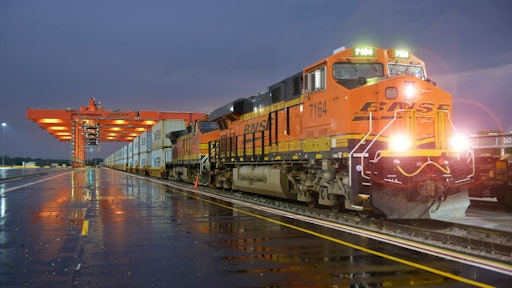 Food and beverage shippers are finding that North America's Class I railroads continue to offer an attractive and cost-effective method of transportation, while rail and intermodal providers are doing their part to support shipper demands with faster deliveries, infrastructure improvements and improved tracking capabilities.
Charles Penrow III, manager of U.S. logistics and U.S. DOT compliance at McCain Foods USA Inc., said the railroads have been focusing on ways to speed transit times. For example, Union Pacific has created a direct food train that originates in either California or Idaho and heads east, shaving days off of transit times.
"I think the rails are getting smarter in looking at those opportunities," he said.
Meanwhile, BNSF Railway's Expedited Intermodal Service averages a transit speed of approximately 800 miles per day.
"Our speed and consistently is especially critical to our fresh food customers who rely on us to help them extend the shelf life of their products," said Elizabeth Hill, general director for temperature controlled Intermodal for BNSF.
BNSF, based in Fort Worth, Texas, offers the only expedited service to and from Seattle and also offers expedited service to and from Chicago and St. Paul, Minn. to the Pacific Northwest, Hill said. What's more, to help speed the movement of perishable products, BNSF launched RailPASS, a mobile app designed to create an efficient and expedited gate experience for truck drivers moving loads in and out of BNSF hubs.
Railroads are also continuing to make sizeable investments in infrastructure. During 2014-15 BNSF made an $11 billion network investment, adding more than 200 miles of double-track, 875 miles of Centralized Traffic Control to help manage rail traffic, 18 new sidings and 25 extended sidings. BNSF has also made a $3.5 billion investment on its Northern Corridor route.
The rail carrier is also completing a new bridge and secondary track in New Mexico, which means that all but four miles of the approximately 2,200-mile Southern Transcon route connecting the West Coast to major intermodal markets such as Chicago, Dallas/Fort Worth and Kansas City will be double tracked this year.
Florida East Coast Railway (FECR), a Class II railroad based in Jacksonville, Fla., has worked closely with PortMiami in Florida to reintroduce on-dock rail service. PortMiami has partnered with the railroad, the U.S. Department of Transportation and the state of Florida to invest nearly $50 million to connect the port with the railroad's Hialeah intermodal yard and the national rail system.
Establishing on-dock intermodal rail service has opened new markets for the port and FECR, allowing containers at PortMiami to load directly onto awaiting trains, with FECR delivering truck-like service in certain markets.
"FECR currently moves around 45,000 containers annually at PortMiami and has the available capacity to handle up to 225,000 boxes yearly," said Jim Hertwig, FECR CEO.
FECR provides refrigerated boxcar service for perishable products and has a 351-mile network from Jacksonville to Miami, Fla. The railroad offers delivery within the Southeast U.S. in two days.
"Beyond Florida, we connect to 70 percent of the U.S. population within four days via steel wheel interchange with two Class I railroads in Jacksonville," said Adam Bridges, senior vice president of strategic planning and marketing for FECR.
The mix of equipment currently on the market can also speed deliveries. "By using their own cars, as well as railroad owned equipment, bulk rail service offers cold chain customers added capacity and speed to market affording a longer shelf life of goods," added Bridges.
Railex, a refrigerated third-party logistics provider based in Rotterdam, N.Y., uses a mix of boxcars from Union Pacific as well as its own fleet of boxcars from Cryo-Trans Inc. According to Paul Esposito, executive vice president of corporate affairs, shipments going on the Railex platform, which controls the lane of transit, take just one day longer than long-haul truck. "They can put basically anything they want to via rail, so long as it allows the inventory to be handled in a boxcar manner," he said.
McCain Foods maintains a fleet of 269, 72-foot refrigerated boxcars that move, on average, one shipment per month, explained Penrow.
"In the shorter regions we could do more trips, but you get the most bang for your buck on the return of the asset when you go over those longer distances," he said.
One rail car can hold 3.5 truckloads, Penrow said. "Typically we're in a good range when it comes to rail being much more competitive for us," he said, adding that rail allows shippers to avoid hours-of-service regulations that the trucking industry faces. "The downside is you can't ship rail to every place."
The benefits of technology
Mark Hallman, a spokesman for CN, based in Montreal, Quebec, said real-time monitoring and post audit capability within the rail sector have benefited shippers within the perishable segment.
"Providing visibility within the entire cold chain is crucial and that is what our focus has been through our investments in asset and technology within the CargoCool service," he said.
McCain Foods uses GPS positioning technology and pings cars several times a day so the company always knows the location of a shipment. At the same time, the reefers report back their temperatures so the company can monitor the temperature of the air entering and exiting the unit and the ambient temperature within the vehicle.
"We can set it, restart it or change it remotely if needed," Penrow said.
Railex uses a variety of tracking methods. "There are 50 alarm points in each and every unit and we can manage that unit every 15 minutes if need be," Esposito said, adding that Railex posts the location of its train two times a day. However, "Some of our customers demand four times a day," he said.
Railex backs up its satellite tracking by putting two physical trackers in the boxcar, which can be read once the railcar is back in its possession. The company monitors the location of the train as well as the temperature of each boxcar and can run a diagnostic on the refrigeration unit and take action if temperatures go out of range.
"We can act remotely, but it is critical that the train keep moving," Esposito said, adding that if a car stays sealed, it will only lose half a degree of temperature every 24 hours.
Herman Haksteen, CEO of Cryo-Trans, Inc., North America's largest private lessor of rail temperature-controlled transportation equipment, said the company uses a two-way refrigeration technology.
"We can do a full diagnostics through this two-way technology and then we can set up a service call to have the car fixed at the next service station or send signals to the car that will shut down a unit if it is running hot," he said. Cryo-Trans' rail cars also feature five-inch insulation. "The reason we did that is because we can be down for 48 hours without losing temperature on that boxcar," said Haksteen.
Cryo-Trans also tracks door alarms, and anytime a door is opened in transit, railroad police and someone from the company receive a call informing them a car has been broached.
"From a food safety perspective, that is a huge win," Haksteen noted.
BNSF's Hill said, "Like all supply chains, temperature controlled operators must continually upgrade technology to ensure efficiency, integrity and safety. This includes both back-end IT infrastructure and front-end devices to gather and report key shipment data in real time."
Likewise, CN said constant innovation has been a key driver for the company and that it is constantly working with customers and stakeholders to build new products and services to drive more value.
The truck-to-rail conversion
Rail and intermodal providers said they have seen an increase in demand driven by increased regulations within the trucking industry.
The challenges facing the trucking industry are driving more and more discussions around rail solutions in the temperature controlled sector," said BNSF's Hill.
She added that the pressures facing the trucking industry as a result of regulatory activity, such as the mandate requiring electronic logging devices, will continue to grow, creating more opportunities for the rails. As a result, BNSF continues to see an increase in temperature-controlled products moving via intermodal and is making capital contributions to help facilitate growth.
Railex's Esposito also remarked that rail is gaining market share from truck. "The influx of intermodal and intermodal containers is making the conversion from truck to rail happen easier," he said, adding that low diesel prices have slowed the move to rail, but he expects it to come back when fuel rates equalize.
Haksteen of Cryo-Trans said a large portion of the transportation industry is interested in boxcar rail, which he said is the most efficient way to move goods across the country.
"You have a lot of things that people think is from the past, but the past has been making a pretty strong comeback and it is surprising how many large companies have rail in the supply chain," he said. "Is there a role for frozen rail transportation in the food supply chain? Absolutely."
Challenges remain
Hill said BNSF believes there are significant over-the-road conversion opportunities for temperature controlled products in the railroad's existing service lanes, but challenges remain.
"While the temperature controlled market place is large, it is also very fragmented, which will continue to pose a challenge for the movement of these goods," she said.
McCain Foods' Penrow said there are some complexities that occur when shipping via rail. "There are seven Class I railroads, so if you have stuff moving across different regions, you're going to hit one if not more," he said, adding that the shipper can either negotiate rates with each railroad independently or pay one railroad to get rates from another railroad.
Furthermore, "Customer service can be an area of concern because you have to determine who you deal with and the root cause of an issue."
On-time performance can also be an issue. Penrow said the speed and on-time performance of the railroads has increased over the past year as coal and oil shipments have decreased.
"It is not necessarily that they're performing better. It is that they have less congestion," he explained.
Nonetheless, if coal and oil were to pick back up, the on-time performance and transit times would likely change. "That is a dynamic we have to be cognizant of as we make that decision on what mode to use," Penrow said.
On the topic of regulatory compliance, Cryo-Trans' Haksteen said the U.S. FDA's Food Safety Modernization Act could be a challenge for the rail industry.
"The shipper is responsible to know what was on the rail car for the last three trips. The railroads will have to provide that information back and they don't have that ability today," he said.
Customers will also need to know if a rail car has been sanitized. The railroad only has cleaning tracks in major stations in the U.S. "That is going to add a level of inefficiency to the railroad industry the rail industry isn't used to doing yet," Haksteen said.
For shippers using a private car and a dedicated fleet, it won't be an issue. "Those cars stay in their service, so there is knowledge ahead of time as to what lanes those cars are going to be assigned to and what product they're going to be hauling, so the cross-contamination issue goes away," he said.
According to Esposito, Railex has a "stringent cleaning process" that it implemented 10 years ago.
BNSF's Hill said FSMA is triggering investments that will help document every step in the food supply chain.
"Products such as produce must be traceable all the way back to the point of origin and recall systems must be reliable and efficient," she said.
For more information:
McCain Foods, www.mccainusa.com
BNSF Railway, www.bnsf.com
Union Pacific, www.up.com
Florida East Coast Railway, www.fecrwy.com
Cryo-Trans, Inc., www.mhwgroup.com
Railex, www.railex.com
CN, www.cn.ca