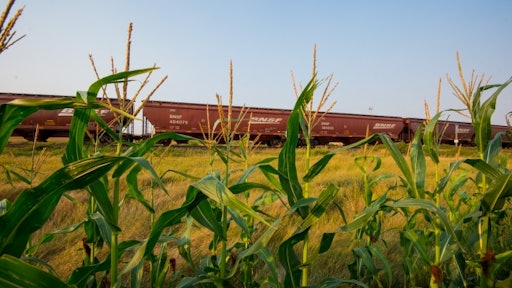 To their credit, major freight railroads in the U.S. have come a long way in redeeming their image over the past few decades. Improved on-time performance and overall reliability continues to position rail as an alternative or at least a component—for just-in-time supply chains that require dependable service and reduced fuel costs for long-haul transportation.
Considerable investments are paying off and more are on the way. In its 2015 Outlook publication, the Association of American Railroads (AAR) states that U.S. freight railroads expect to spend a record $29 billion on the nation's rail network and hire about 15,000 people this year.
The planned $29 billion in projected spending in 2015 brings the freight railroads' private investments to $575 billion since 1980. Investments have gone towards upgrading track and purchasing new locomotives and freight cars to meet growing demand. While the ongoing driver shortage in the trucking sector makes rail more attractive for many shippers, the railroads service improvements ultimately earned the confidence—and business—of shippers, including those whose freight is time- and temperature-sensitive.
However, service levels made a notable downturn last year. For its part, the AAR stated that: "In 2014, America's freight railroads experienced a surge in demand for rail service across multiple industrial sectors. Thanks to a variety of factors including a record grain crop in 2013, increased demand for coal to generate electricity, and better general economic conditions, railroads saw a 4.5 percent increase in carload and intermodal traffic in 2014 compared with 2013. This surge in traffic was largely unexpected, but railroads are striving to meet this increased demand through infrastructure investment and hiring."
Shippers and multimodal transportation providers are feeling less cheerful. One in particular, Cold Train, filed a lawsuit against Burlington Northern Santa Fe (BNSF) last month, claiming "a significant slowdown in BNSF's service schedules on its Northern Corridor line beginning in the fall of 2013 because of increased rail congestion as a result of BNSF hauling larger volumes of oil and coal from the Northern Plains region" forced the shutdown of Cold Train's intermodal service that targeted perishables goods moving between Quincy, Wash. and terminals in 19 states throughout the country.
In conversations with other stakeholders in the food supply chain that are using rail, it's clear that service issues are not isolated to Cold Train. The questions, nonetheless, are what's responsible for the sudden service failures and when will they be resolved?
Food Logistics checked in with Tom Polidoro, director of strategic business development, pricing and procurement at Yusen Logistics (Americas) Inc., for his perspective on the current marketplace…
FL: In regards to food/bev shippers, to what extent are Yusen's customers in these sectors converting over-the-road shipments to rail as a way to offset capacity issues with trucks, save transportation/fuel costs, and even improve their sustainability efforts? Are there any particular customers or trade lanes that you can give as an example?
Polidoro: Yusen Logistics Americas does business with a wide array of food industry/beverage shippers, both domestic and international, all having different service and economic requirements. Over the last 18 months, there has been a definite move by many to explore added capacity opportunity by looking at the conversion of OTR to intermodal service. New rail ramp service offerings, especially in the East, contribute to this. The press and peak constraints caused by the OTR sector's dwindling driver capacity shortages is also fueling these opportunities to handle customer's growth requirements and changing needs. Also, the closer the customers' DC network is to viable rail ramps, the more lucrative intermodal starts to become from a price and service condition.
Last year's well known and well-documented winter vortex rail service deterioration definitely impacted a slowdown, and in some cases, a short term reversal of OTR to Intermodal conversion. However, once it was over—and as service has improve—we see more opportunity requests coming in from these and other customers with greater frequency who are now exploring or embracing intermodal service in more lanes especially in and with eastern markets/railroads. It depends upon each customer and the price/service/capacity concerns and sensitivity; however, many set up their distribution networks to use intermodal where it served their best interests and we see this now expanding.
We do significant business with major packaged food, food ingredient and food service companies. Although I'm not at liberty to mention them without their expressed permission, they would be well-recognized companies within the food/beverage industry. Major trade lanes that are or have been recognized as solid intermodal service and Pacific Northwest to the Midwest, Southwest, South and East; and emerging markets in the South through new eastern railroad services.
FL: For those customers who are moving some of their freight on rail, what is their experience in the service arena? It's no secret that the major Class I's have had serious service issues this past year, which is negatively impacting their perception in the logistics sector at a time when Class I's have worked to regain shippers' confidence.
Polidoro: As previously stated, the service meltdown that occurred in intermodal prompted by the winter vortex and slow recovery of the railroads along with Chicago Gateway congestion greatly impacted service and the perception of intermodal within the logistics sector. If you were just looking to start with intermodal, the service experience would not have been a "good" one. However, the railroads have invested a lot of time, money and personnel to get back on track service wise.
This past winter's severe weather conditions did not impact service anywhere near where it had in past. With the exception of places like Boston area, or select ramp markets where extraordinary snow and conditions prevailed, the service stayed its course. All railroads are reporting vastly improved service and intermodal continues to grow on all North American railroads. There is always concern, but overall performance has allowed for a renewed sustainability and growth. Customers who might have shifted business off intermodal for service conditions during those times/conditions, have and are returning and looking as to how they grow the capacity.
FL: Is there anything else related to food/bev shippers, including those that ship time- and temp-sensitive cargoes, that you can comment on?
Polidoro: Intermodal offers various opportunities for service and capacity. There are expedited services with a premium rate structure available. There are new intermodal refrigerated carriers and services coming into play that did not exist before offering new dimensions in service. We are starting to see more delivery times during off-peak hours, for example, at grocery warehouses that allow for dray equipment to be more optimized around the clock, rather than just during day.
We have seen an increase in the use of one-way temperature control blankets to protect select goods from winter travels and conversions to maintain sustainable intermodal services during winter months, which creates added capacity at competitive pricing versus conventional transportation mode/cost.
As the railroads become more service consistent (and continue to stabilize and improve), along with new service lanes being implemented—especially on Eastern railroads—the opportunities will continue to provide sustainable transportation, not just as added capacity or alternative, but more from a regular committed basis. The equipment condition requirements for "food grade" equipment to be provided by the intermodal community is currently a driving force behind the railroads looking at equipment conditions and how they better serve this industry.