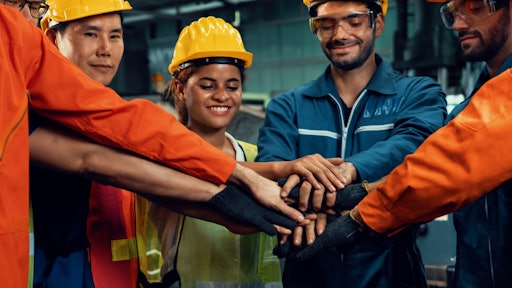 Blueplanetstudio/adobe.stock.com
When it comes to diversity, equity and inclusion (DEI) in the supply chain, hiring managers and employee referrals have a huge role to play. Currently, leadership across all aspects of the supply chain lacks diversity. For example, just 7% of supply chain leaders are Black or African American, according to Zippia; 12% are Hispanic or Latino, and 8% are Asian. Women are also consistently underrepresented at the highest levels of the supply chain, as more than two in three leaders are men.
As the United States celebrates holidays throughout the year like Celebrate Diversity Month in April and National Coming Out Day in October, to name a few, the supply chain industry should take a moment to recognize how imperative it is to keep DEI top-of-mind in supply chain recruitment, retention and community engagement.
Rethinking how to hire and promote
Building a more diverse entry-level talent pipeline has impact far beyond the near-term; it also lays the groundwork for more diverse senior leadership teams and C-suites. This pipeline rounds out talent diversity at all levels of the business, so employees are more likely to see themselves represented across their peers and leaders.
Overall, supply chain leaders must be proactive in ensuring that their businesses are more reflective of the general population. A team that thinks differently and can bring diverse viewpoints to the table can be far more effective than one that's always in unison, creating an echo chamber devoid of innovation.
Rethinking how we include
Recruiting and promoting diverse talent is important in getting the ball rolling, but supply chain leaders also need to consider their workplace environment if they want to retain diverse talent—does their culture encourage their new and existing employees to be their authentic selves?
Supply chain businesses looking to improve inclusivity should lead from the top down. It is imperative senior leadership model behaviors they want employees to follow. For example, sometimes employees don't realize that the language they're using or the actions they've taken inadvertently hurt co-workers or lead them to shy away from sharing their insights in the future. That's why gestures that may seem small, such as executives displaying their preferred pronouns in their email signatures, can have a big impact on how underrepresented employees feel about their job and their employer.
One way businesses can help their employees feel included is to offer and promote open dialogues. When folks help each other see they're not alone, and when they respect each other for who they are and have compassion for each other's struggles, then it creates the space to truly be authentic selves at work.
Rethinking how to invest
While it's critical to build a strong DEI program internally, it's also important for supply chain businesses to be involved in community engagement. Supply chain leaders have a unique set of resources and skills they can invest into inclusive initiatives, whether in the broader business community or at the local level.
Some supply chain leaders are pursuing external DEI initiatives by growing their supplier diversity programs. They're investing in minority-owned and operated businesses to source raw materials and transportation. A robust supplier diversity program is a win-win: it not only gives minority-owned businesses a chance to grow, but also gives investors an opportunity to learn new techniques and strategies from their suppliers to help improve their own processes.
Supply chain leaders can also get involved in numerous diversity initiatives outside the office, whether that's through the local high school or university or other volunteer youth programs.
Putting DEI front and center
Long before COVID-19, the supply chain needed fresh solutions to deal with increasing customer expectations. But now, businesses must evolve if they want to keep up. Inclusion and diversity efforts are key to helping companies think differently and uncover breakthroughs.
Building a DEI-centered organization takes all, everyone—starting at the top—to rethink the way we hire, promote, include and invest. When we work together to help co-workers feel included, to grow suppliers and help communities thrive, we're laying the groundwork for a more diverse supply chain—and that's the only successful path forward.