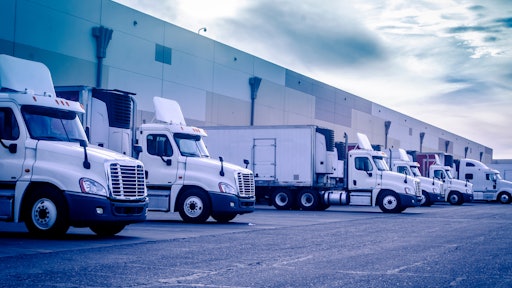 BCFC/stock.adobe.com
Every industry is currently feeling the crunch of supply chain shortages. Raw material prices have risen consistently over the last year, which has made it difficult to produce and source many parts. The automotive and transportation industries are feeling the impact of the microchip shortage – a critical component needed to build the semitrucks we see on the road and which are essential for keeping the supply chain moving. In response, truck manufacturers have either slowed production or halted building altogether until they can get the supplies they need.
For the trucking and logistics industry, this means that new truck and trailer orders are either being partially filled, or they are being delayed until further notice. With the supply chain already facing multiple challenges, like the driver shortage and port congestion, this throws another wrench into the equation. Many companies are going the extra mile to repair trucks and trailers in their fleet to ensure their equipment is safe and road-ready for their customers.
However, with the ongoing parts shortage, fleet maintenance shops are struggling to keep up. With the continuation of parts and microchip shortages, fleets have been forced to run vehicles past conventional life cycles. In this environment, carriers must look at maintaining their vehicles well in advance to ensure their current fleet can withstand wear and tear while remaining in the best condition possible. By performing proactive repairs and anticipating parts shortages, companies can boost their equipment's life cycle and its overall efficiency despite macro challenges in the parts market.
Managing a Large Fleet
It's not uncommon to see fleets have more trailers on hand than they do tractors. Sometimes those trailers have cargo onboard that can't be unloaded right away, so rather than sit around and wait for it to be unloaded, drivers can drop one trailer, pickup another and be on their way. This enables fleets to maximize driver utilization.
LTL fleets typically have trailer-to-tractor ratios above two to one. This allows them to ensure they have enough resources at the start of each day to move shipments. But it takes the shipper, carrier and receiver all working together to effectively manage resources, ensuring trailers get unloaded and loaded on time and providing visibility to each other.
LTL carriers also have to manage utilization carefully because they allow multiple shippers to share space on the same trailer. Technology can be one piece of the puzzle, but fleet managers and terminal operators also keep meticulous maintenance records. They're key to knowing when to bring tractors or trailers into the shop for maintenance and logging what work is completed.
The shop is also one of the most important operations for any fleet. It has to ensure it has the parts or the tools on hand to complete a repair. If it doesn't, the fleet manager might be able to direct that piece of equipment to another terminal where that shop is better equipped to handle a repair. The shop manager also has to coordinate well in advance and know what parts are most used or replaced most often, ensure that the shop has enough stock and anticipate needs in advance of repairs.
It's truly a team effort to keep the shops stocked with parts and tools, coordinate bringing trailers and tractors in for repairs and understand how much time the equipment will be offline all while ensuring the rest of the fleet remains operational.
Predictive Maintenance and Maximizing Uptime
The manifests that both the technology and shop managers keep are extremely important when tracking utilization and maintenance needs. Nowadays, there's so much data available around how long a part can effectively run before it is most likely to break down that companies can use this information to perform maintenance before the part breaks. This style of preventative maintenance helps reduce the chances of costly breakdowns on the road, which might cause an accident or require a tow truck for assistance – adding more costs that impact revenue.
Whether replacing a worn tire or swapping a piece in the engine, doing so while the truck or trailer completes a trip is more costly. Not only does the equipment need to be fixed, but the downtime can delay the shipment. This might cause the driver to have to wait until the next day to complete the shipment, which cuts into driver utilization, or the carrier might be charged a late fee. In either scenario, it cuts into the bottom line of the carrier.
If implemented and utilized correctly, a predictive maintenance schedule can help fleets maximize uptime and avoid the massive repairs that happen when something goes wrong on the road. This isn't to say that performing replacements/repairs before something breaks will work out perfectly. Fleets should always prepare for emergencies and be ready to adjust on the fly.
But as the part and equipment shortage marches on, fleets should be doing everything in their power to get ahead of any issues. Maximizing tractor and trailer uptime only benefits companies in the long run, as avoiding costly repairs on the road and increasing utilization improves the bottom line.