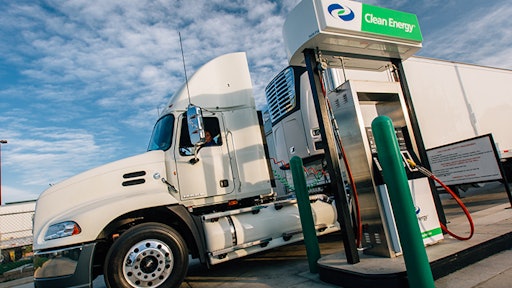 Getty Images
Sustainability is moving centerstage for every enterprise, and logistics teams are squarely in the spotlight. If your organization is like most, you're studying operations and looking for ways to develop and deploy sustainability strategies. The motivation for this work can range from compliance to cost savings to good citizenship. But, the move to sustainability is happening and the pace of change is only going to increase.
It's clear that sustainability strategies require some investment in terms of collecting and analyzing data, rethinking transportation models and deploying electrified vehicles, clean fuels and other green technologies. All of this investment may seem like sustainability will become a drag on profitability. But, examination of the best practices that have been developed by early adopters shows that, if designed and executed properly, sustainability strategies can contribute to increased revenue and stronger profitability.
In early 2021, SAP and Oxford Economics surveyed 1,000 global supply chain organizations and revealed four key findings. First, supply chain executives are just now trying to close the gap between goal setting and taking meaningful action on sustainability. Second, few supply chain organizations have significant or complete visibility into their supply chain processes. Third, most supply chain organizations struggle to make processes more sustainable. Fourth, technology plays a critical role in meeting sustainability goals.
The study also reported that fewer than half of respondents are willing to sacrifice profitability for sustainability goals. Designed and executed properly, sustainability can do more than protect and improve the environment. It can help shippers and carriers build stronger, more profitable supply chains — all the while providing people in all parts of the world dependable access to food, medicine and other essential goods.
Emerging technology paves the way
Sustainability can be an engine for growth and economic prosperity at supply chain logistics organizations. Shippers, carriers and their sustainability consultant partners can leverage many of the innovative, emerging technologies to rethink their sustainability programs and apply these technologies in new ways that serve the planet as well as profitability.
For instance, real-time analytics can provide the insights required to make optimal transportation decisions – like converting over-the-road to rail -- that result in a cleaner planet and stronger economic performance. Groundbreaking applications are being explored for electrification, alternative fuel vehicles, Internet of Things (IoT) devices, artificial intelligence, dynamic routing, telematics, aerodynamics and other emerging technologies.
Advanced data collection tools can be used to calculate emissions and other key metrics for organizations. This real-time visibility — along with predictive and prescriptive analytics — can deliver insights that empower organizations to make better and more beneficial choices for transportation.
Sophisticated business intelligence (BI) tools are also emerging that allow shippers and carriers to use real data to play out hypothetical scenarios (changing lanes, modes, etc.) and help them make choices that align with their cost, quality and sustainability goals. These BI tools can be used to form baselines for implementing corporate sustainability programs and to set targets for improving and optimizing existing sustainability programs. They can also provide access to dynamic routing technologies, industry data, analytics tools and other sustainability assets.
Collaboration is key
Creating a world where goods move freely and people are empowered to build the businesses and communities they envision matters. Sustainability in these environments is foundational to this purpose.
Yet, logistics teams at supply chain organizations often need outside expertise to marry up their sustainability goals to business outcomes. Collaborating with experts in sustainability and logistics to integrate the economic, operational and sustainability goals of the organization is key to optimizing day-to-day operations and long-range planning.
In searching for the right partner, logistics organizations should consider the following criteria. First, a sustainability partner should value science. Look for a partner that seeks the best sustainability technology and thinking from every industry — not just logistics. A sustainability partner should be focused on working to create a better world for generations to come and prioritizing the good of all over short-term gain.
A willingness to collaborate is also critical in a sustainability partnership. Logistics organizations need a sustainability partner who will work side-by-side with them to develop solutions that deliver the results they want, while protecting our collective environment. In addition, the sustainability approach needs to be borderless. A partner needs to recognize that sustainability is a global challenge that requires global collaboration. Seek a partner that applies their best thinking and most advanced technologies to every market that an organization serves.
Furthermore, a sustainability partner needs to be inclusive and embrace strategies that are built to improve the lives of all of an organization's stakeholders — colleagues, customers, carrier partners, investors and consumers worldwide. A responsible partner will work relentlessly to develop and achieve sustainable solutions that protect the financial interest of an organization's customers, carrier partners and investors.
Last but certainly not least, shippers will increasingly be required to demonstrate and report progress against sustainability goals. A sustainability partner should actively participate in the U.S SmartWay program, GreenFreight in Europe and other government-sponsored initiatives to stay on top of evolving requirements and regulations.
Make sustainability front and center
Sustainability shouldn't be an afterthought or an add-on. It's a new way of doing business that's driven by thoughtful application of clean energy, artificial intelligence, material science, analytics and other emerging technologies.
As supply chain logistics organizations look for ways to fortify their sustainability programs and report measurable progress, technical and consultative resources will be critical in helping them reduce their carbon footprints — while improving the speed, resilience and efficiency of their supply chains.
Click here to hear more about sustainability in the supply chain: