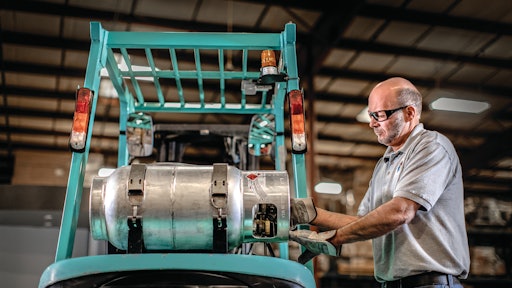 Propane Education & Research Council (PERC)
Forklifts are commonplace in warehouses, distribution centers and on loading docks across the country, used to handle the everyday heavy lifting that keeps materials moving.
When it comes to selecting an energy source to power their fleet, businesses are often making the choice between propane, diesel and electric. With distinguishable differences between the fuels, the energy source chosen to power their fleet can have a significant impact on operations and their productivity, budget and environmental footprint.
These three questions can help material handling professionals select a forklift energy source that's right for their specific needs.
1. How important is around-the-clock power?
For businesses that operate 24/7 or run multiple shifts, having equipment that can keep pace is critical. Propane enables a forklift fleet to run on 100% power throughout operation, and one cylinder, covers an entire eight-hour shift. The time required to refuel propane forklifts is minimal compared with electric options. When a cylinder is empty, operators can simply swap it out for a full one in a matter of minutes and get right back to work, whereas with electric, recharging an electric forklift battery can take up to eight hours and may require additional staffing or multiple batteries.
2. What's the budget?
Propane can provide an affordable energy solution for crews who have a small percentage of the overall budget allocated to fuel and equipment costs, or for those just looking to reduce operational costs in general.
Most notably, the capital costs of propane-powered forklifts are almost 30% lower than those for electric, when factoring in the equipment needed for battery recharging. Propane helps avoid these extra expenses, saving money for other line items like new employees, additional training or business development, to name a few. Additionally, businesses operating propane can lock in a fuel contract with their local propane supplier for more savings and financial peace of mind. And, to further enhance their value proposition, propane cylinders last three times longer than electric forklift batteries and their lifespan isn't affected by the amount of fuel left in the tank, whereas a battery with too high or too low of a charge can have a much shorter lifespan.
3. Is sustainability a high priority?
Incorporating clean, sustainable practices is a growing priority for companies throughout the supply chain industry. For many material handling professionals, this means taking a closer look at the fuels used in and around the warehouse or facility.
Propane forklifts offer a low-emissions solution for crews keeping an eye on their carbon footprint. According to data from the Propane Education & Research Council (PERC), propane-powered forklifts reduce sulfur oxide (SOx) emissions by 76% compared with electric forklifts. Plus, well-maintained propane forklift engines meet or exceed nationwide indoor air quality standards, enabling them to be operated in properly ventilated indoor environments.
Still on the fence?
There's a lot to take into consideration when selecting the right equipment and energy source. For businesses still on the fence, speak with a local propane supplier to determine if it's the right fit, and discuss all the ways they support those operating propane-powered equipment. For example, propane suppliers can conduct safety training with employees, including cylinder handling best practices, how to install propane cylinders on their equipment and guidance on the best place to set up propane cylinder storage rack. In addition, crews can work with a local propane supplier to establish a custom refueling and delivery schedule that works for their specific fleet, demand, budget and schedule.