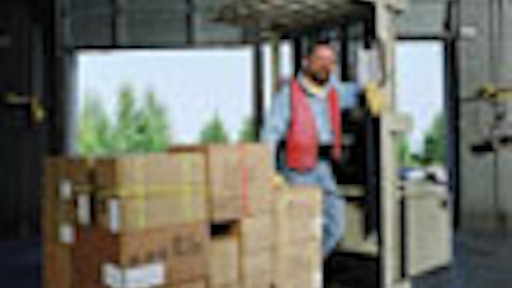 Working in a warehouse can be dangerous. The Occupational Safety and Health Administration (OSHA) estimates there are approximately 34,900 serious injuries every year due to forklift mishaps alone. With sobering statistics like this, companies need to be asking themselves an important question--who is training our forklift operators?
The trainer is the final arbiter of who gets to sit on a forklift. He is the one that will certify the fitness of a trainee and their ability to maneuver the vehicle under the specific conditions of the facility where the forklift will be operating. The safety of every single worker that steps onto the floor of that facility is therefore the trainer's responsibility.
Companies must be absolutely sure they can trust the person they've appointed as forklift trainer. So, who's the trainer? For one thing, say experts, it can't be a DVD player.
"A lot of smaller companies don't have the financing or staff to do training properly," says Wayne Wilde, director of customer training and technical publications for Nissan Forklift Corp., Marengo, IL.
"They've read that if they get a video, show it to a guy and have him drive around a pylon that it's good enough."
Wilde believes such an approach is only marginally good. The level of concern for safety must be high enough to warrant a better approach, such as bringing in people with more training expertise. Many forklift companies offer courses to train on-site trainers in the basics of forklift operation.
An on-site trainer should be readily available to provide training for companies that experience high turnover rates. It can be prohibitively expensive if a company has to hire a third-party trainer to constantly come out and train its new hires.
"By having us train your trainers you pay one flat rate," says Melissa Coito, training manager for Toyota Material Handling Northern CA, Hayward, CA. "You receive the videos and manuals and the only thing you need to purchase in the future are certificates.
"If a company has a high turnover rate, like a winery or a packing house, I suggest to them they make the investment in one employee whom they know is going to be there," says Coito.
During her trainer sessions, she goes over the rules and regulations relating to OSHA's 1910.178 forklift standard and teaches trainees how to write lesson plans specifically related to their environments.
"We give them the tools and information they need to go back and train their people in accordance with OSHA standards, so as they have turnover, the company has an employee on site that can manage it."
In addition to being on hand to train new hires, a company-sited trainer can be readily available to deal with re-training situations. OSHA says that operator re-evaluations must be performed once every three years.
In addition, operators must undergo refresher training if they are observed operating a lift truck in an unsafe manner, or if they've been involved in an accident or near-miss incident.
They must also be re-evaluated if they've received an evaluation that reveals the operator is not operating the truck safely or if he has been assigned to operate a different type of truck.
Training The Trainer
"The trainer needs to know the ins and outs of every single vehicle in the facility. They also need to know how to read the capacity plates on the vehicles," says Toyota's Coito. She says most trainers are unable to answer the question about the capacity that their vehicles are able to lift, which means they and their operators are constantly guessing about the loads they are working with. "How can they train an operator to do something if they don't know how to do it?"
In addition to forklift capacity, OSHA requires that operators have a good grasp of engine operation, vehicle stability, refueling, fork operation, operating limitations and inspection and maintenance--obviously this means trainers need to know these things as well.
There are other many other elements a trainer must be well-versed in.
"They have to learn the basics of the building and how the company functions," says Greg Mason, general manager, products and training, for Richmond, VA-based Jungheinrich Lift Truck Corp.
In fact, OSHA's 1910.178 standard is very clear that operators must be trained in accordance with such specific environmental factors as surface conditions where vehicles are to be operated, the compositions of loads that will be carried on trucks, the various hazardous locations in a facility, as well as ramps and other sloped surfaces in the building.
They must also understand the basic pedestrian traffic patterns in the building and be able to notify operators of any closed environments where insufficient ventilation could cause a hazardous buildup of diesel exhaust from internal combustion forklifts.
"He should also be the most knowledgeable person in the plant in terms of how they should handle their product," notes Nissan's Wilde. This is especially true when it comes to the handling of hazardous materials.
"The trainer has to communicate to the operator all the knowledge he has about how to handle the product as safely as possible," says Wilde.
The trainer also has to be knowledgeable in a set of core principals regarding lift truck operation. "We're talking about travel procedures--every truck you get on should be operated in a safe manner," says Mike Angelini, manager of field training services for Raymond Corp., Greene, NY.
"When you come to an intersection, you sound your horn to alert people that you're coming to that point. Any program will have a good grounding in those basic principals."
Angelini is quick to point out that yes, a person does have to be familiar with the equipment, "but to say they have to have driven a forklift for 20 years--I don't think so. There are many other qualities that a trainer needs to embody.
Communication Is Key
"An ideal trainer must not only understand the subject matter, they must understand the principals of learning," says Angelini.
Training adults involves the principal of engagement. The best trainers should know how to encourage interactivity and foster learning.
"They innately understand the thought process behind the answers students give--especially if they're the wrong answers. They help them understand why their assumptions might be incorrect and help them get to the right answers."
Another trait the experts stress is the ability to communicate. The ideal trainer is someone who is able to take the information about company policies and safe forklift operation and communicate it to the trainees in a manner which they'll pay attention to. After all, their lives could depend upon it.
"You can have someone who has the most knowledge and can handle things on the floor, but when he gets up in front of a class, he can't communicate," explains Nissan's Wilde. "He's just not comfortable in front of people."
This is why in Nissan's trainer classes, Wilde actually gives students part of the class to teach to their fellow students, as a measurement of whether they can go back and teach classes at their own companies.
"It's important to choose the right people for your potential trainers," says Toyota's Coito. "I've had trainers come through and they're very self-conscious about speaking in front of people. They have to be able to come from a position of authority."
This is especially important when dealing with hardened forklift operators. Coito says she's taught classes here she's had to deal with operators who have been driving forklifts for 30 years and they have the attitude that there's nothing new anyone can teach them.
"I tell them--great. You should be able to get 100 percent on the test since you've been driving for 30 years. Then I tell them to let me know if they actually learn something new by the end of the class."
Typically they don't get 100 percent on the test and they end up telling her they've learned something they didn't know before. Perhaps one of the most important skills the trainer must bring to the table is the ability to use his own judgment. This includes knowing when to stop investing time and training on someone who "just won't get it."
If a new hire has gone through forklift training and the trainer's guts tell him that the person wouldn't make a good operator, he has a responsibility to "flunk" the trainee or perhaps get them assigned to a different piece of equipment--say an electric pallet jack instead of a forklift. The bottom line is that trainers must learn to trust their instinct.
"You need to feel 100 percent confident that the people you are training can be turned loose in the work environment," says Toyota's Coito. "If you're not confident, don't do it."
Coito has her own special gauge she uses to measure her level of comfort with trainees. She thinks about her 10 year-old child and wonders if she would feel safe having a particular operator driving in the warehouse around her child. "Is he honking his horn? Is he driving at a safe speed? If he could potentially drive around your 10 year-old, put him to work."
Build A Training Team
Many companies can only afford to designate one person as the company forklift trainer. That can be a problem if the designee has other functions to perform and can barely find the time to schedule training for new hires, or retraining for those whose certificates are about to expire--never mind setting up the classes and scheduling people.
"OSHA requires that there's some record keeping of the training that's taking place. There should be a designated individual to maintain those records," says Greg Mason, general manager, products & training for Jungheinrich Lift Truck Corp., Richmond, VA. "Without that how can you prove anything was done?"
Should OSHA inspectors decide to pay the company a visit and records are in disarray, tremendous fines could result.
This is why building a training team may be the most strategic solution. Some of the experts suggest finding the most experienced forklift person on the warehouse floor--someone who is involved in the daily operation of forklifts--and assigning them the hands-on portion of the training.
"It may be that an HR person leads the class, but then she brings in a production person from each area to explain the best way to handle their pallets and containers, or their merchandise as it comes in-and-out of the plant," explains Wayne Wilde, director of customer training and technical publications for Nissan Forklift Co., Marengo, IL.
Larger companies may need to create an even larger division of labor.
"The HR person puts on the classes and sets up a series of team leaders within the organization, such as the warehouse manager, the shipping and receiving managers and the production manager," says Jeff Ord, Forklift Safety.Com, Boulder City, NY.
Ord says it would be these team leaders that do the evaluations for each of their people on each specific forklift that they will be operating.
"If it's left up to one individual and they have 50 different types of forklifts, plus 200 employees--that's 1,000 evaluations," he says. "You need to spread it out." --B.S.
Putting Safety Guidelines In Place
By Larry Couperthwaite and Elizabeth McClatchy
Employers work hard to avoid the costs, damages and injuries that may occur with warehouse and forklift equipment operations, in addition to meeting standards set by the U.S. Department of Labor and OSHA (Occupational Safety and Health Administration).
In spite of this, the National Institute for Occupational Safety and Health (NIOSH) investigates forklift-related injuries and deaths each year, indicating that many workers and employers may still not be aware of some of the risks, or are not following the procedures set forth in OSHA standards, consensus standards, or equipment manufacturer's guidelines:
"Each year, tens of thousands of injuries related to powered industrial trucks (PIT), or forklifts, occur in U.S. workplaces. Many employees are injured when lift trucks are inadvertently driven off loading docks, lifts fall between docks and an unsecured trailer, they are struck by a lift truck, or when they fall while on elevated pallets and tines. Most incidents also involve property damage, including damage to overhead sprinklers, racking, pipes, walls, and machinery. Unfortunately, most employee injuries and property damage can be attributed to lack of safe operating procedures, lack of safety-rule enforcement, and insufficient or inadequate
training." --www.osha.gov
As a quick safety reminder, we offer the following tips and guidelines to keep your employees safe and your costs down.
Safety Guidelines
1. Make sure all employees have up-to-date, equipment-specific training and warehouse safety training. Lack of training can turn a 10-second job into a $10,000 + nightmare.
2. Take the time to perform pre-shift inspections. This is the time to identify any potential leaks or other hazards. Never cut corners on safety.
3. Always wear the appropriate clothing when at work in a warehouse. In addition to your company's dress code, wear protective footwear, not athletic shoes. Remove rings and jewelry and keep long hair tied back. Jewelry and long hair can become caught in machinery or equipment causing injury.
4. Pedestrians, beware. Watch out for vehicles, especially at doorways and ends of aisles.
5. Equipment operators: watch out for pedestrians and other vehicles, again particularly around aisles. When backing up, watch the direction of travel for potential hazards (people, equipment, etc.), not just the load.
6. Forklift operators: utilize your horn. It is better to make too much noise than not enough. In a busy warehouse, back-up horns can become "normal" background noise, lulling other workers into false comfort zones. Wake them up with that horn!
7. Always use the right equipment for the job, especially when picking up odd-shaped loads.
8. Use equipment for its intended use. Make sure wheels are completely locked on rolling ladders. Maintain your center of gravity when on a ladder; do no lean past your belt buckle. Forklifts, pallet jacks and hand trucks are not designed for passengers. Remember safety is everyone's job.
9. Stack loads properly to prevent them from falling on equipment or pedestrians.
Fire prevention is a daily activity. Do not stack merchandise near sprinkler heads. Get the proper training for handling fire hoses and extinguishers. Memorize the PASS technique for fire extinguishers. Pull the pin. Aim the nozzle. Squeeze the trigger. Sweep from side-to-side. Never take chances with fires. Always call the fire department in case of fire.
10. Selection of the proper lift truck: If high-stacking is required, select a lift truck that can stack high and turn sharply in aisles with no loss of stability.
11. Select lift trucks that can be adapted to the tasks at hand, and to the personal driving style of the operator. Can the lift truck be adjusted for driver skill level? Make sure operators have visibility in both travel directions without extreme contortions.
12. Select lift trucks where all the controls are easily accessible and easy to operate, allowing the average driver to work for eight hours without tiring or being subjected to stresses that may lead to strain injuries.
13. Select lift trucks that provide an integrated safety switch in the floor, flashing warning lights and back-up alarms and beepers.
14. Select lift trucks where platforms cannot be raised and lowered without the driver on board.
15. Select lift trucks with reinforced bumpers to prevent damage.
16. Consider selecting lift trucks that provide the newer PIN code systems, which prevent unauthorized use of the truck. Note that it is a violation of Federal law for anyone under 18 years of age to operate a forklift, or for anyone over 18 years of age who is not properly trained and certified to do so.
17. "Walk-behind" lift trucks with two or more inches of ground clearance help to prevent foot injuries.
Couperthwaite is president, Atlet USA, Anaheim, CA and McClatchy is president, Safety Center Inc., Sacramento, CA.
'Conveying' A Safer Environment
Over 50 workplace fatalities a year occur where conveyors are the primary source of injury, according to the U.S. Department of Labor Bureau of Labor Statistics. Workplace injuries account for nearly 25 percent of all workers' compensation claims and up to 35 percent of all associated costs.
When it comes to efficiency and company productivity, conveyors are key, but when misused both workers and companies suffer.
Ed Stairman, president of A Plus Warehouse, Lynn, MA, offers these conveyor safety tips that can save companies time, money and most importantly, help employers fulfill occupational health and safety obligations.
Inspect your conveyors on a regular basis. Contact the manufacturer or an outside engineering firm who is certified to inspect your conveyors and employs an all-inclusive checklist. In addition, plant managers and operators should conduct regular inspections on a weekly or monthly schedule.
Netting or other protective guarding should be installed to protect against falling products. Protection should also be installed in areas where employees or pedestrians may be walking. Climbing on or over conveyors must be prohibited. If employees must cross over a conveyor, stairs and railing should be constructed or a section of the conveyor must fold up to accommodate safe access.
Install an emergency shutoff device to prevent back-ups, over-stacking and falling product at the ends of conveyors. Over-stacking exposes employees to manual material handling, which can cause stoppage and product damage.
Provide appropriate lighting and flooring surfaces in the area surrounding conveyors. Special floor mats can enhance employee comfort and safety. Confirm that conveyor height is adjustable at both the feeding and removal end to accommodate employee height. Adjustable pallet stackers further reduce the need for bending and lifting.
Post safety signage and install alarms and warning lights to alert employees when the system starts and stops. Confirm that all emergency controls are fully functional.
The Conveyors Equipment Manufacturers Association (CEMA) offers safety signage and other materials for safe conveyor operations. The Naples, FL-based trade association has developed a safety program to address the needs for safe application, use and maintenance of conveyor systems of all types. Products available include:
• Safety labels that graphically alert "caution," "warning" and "danger;"
• Safety label placement guidelines;
• Safety posters;
• Safety training videos for unit handling, screw, drag and bucket elevator conveyors;
• Technical report on noise hazard reduction;
• Design and safe application of conveyor crossovers.
Go to CEMA's website for more information: www.cemanet.org.
Companies in this article