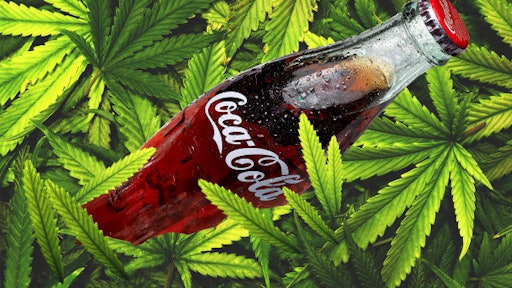 As marijuana continues to be legalized, companies are looking at ways they can incorporate the substance into the products.
Coca-Cola is the latest company to toy with the idea of cannabis-infused drinks. The company is eyeing the industry and is interested in the idea of infusing its soda with CBD, a non-psychoactive ingredient in marijuana that treats pain but doesn't get you high, Bloomberg reports. The soft drink maker is reportedly in talks with Canadian marijuana producer Aurora Cannabis to develop the beverages.
So far no decisions have been made, but Aurora's shares jumped 23 percent after talks were reported
The possibility of Coke joining the marijuana comes as the consumption of soda continues to decline. Beverage makers are currently attempting to add cannabis as a trendy ingredient to boost sales.
Besides infusing drinks with weed, Coke has also branched out to coffee, acquiring Costa Coffee back in August, and has expanded into products like juice, tea and mineral water.
Marijuana remains illegal for a majority of the U.S. Currently, only nine states legalize it for recreational use while 30 states have it legalized for medicinal purposes. However, the substance is gaining acceptance as it continues to be proven to treat chronic pain, anxiety and epilepsy.
To read the full original article, please click here.