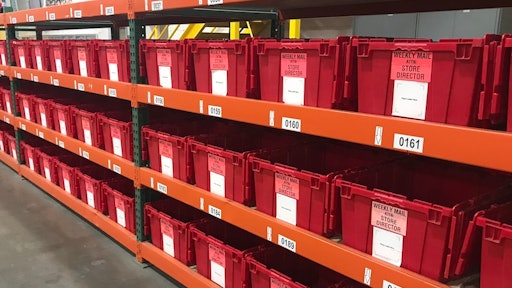 ID Label Inc.
Albertsons, Boise, Idaho, operates more than 2,300 stores across 35 states and the District of Columbia under 20 brands, including Jewel-Osco, Safeway, Lucky Stores, Vons, Market Sreet and Shaws.
It also maintains nearly two dozen distribution centers.
The challenge—Streamlining management of reusable totes
Albertsons' North Salt Lake, Utah, distribution center services 88 stores across Utah, Montana, Wyoming, Oregon, Nevada, and Colorado. The company uses nearly 250 reusable tote containers to deliver marketing materials, shelf labels, pricing information and mail to these stores.
"Initially, we used standard tote labels with permanent adhesive to identify and track these totes in our warehouse management system," says Curtis Walker, technical analyst for Albertsons. "But, workers were stacking barcode labels on top of each other or applying them to different areas of the container. It became a real challenge to accurately track these assets and know when a store had returned the tote to our DC."
Because the barcode labels couldn't be removed, office staff would hand-record information when totes were returned to the distribution center and then enter the information into Albertsons' inventory system.
It was messy to have so many labels stacked on top of or next to each other. It was also difficult for staff to know which barcode label was associated with the current, correct information in the warehouse management system.
"The process was time-consuming and error prone for a large operation like ours," Walker says.
The solution—Tote Renew labeling system
Albertsons reached out to ID Label, Lake Villa, Ill., to learn more about its Tote Renew, a convenient labeling solution that accurately tracks and manages reusable warehouse containers.
When applied, Tote Renew serves as a base that houses individual tracking labels. Its durable construction and easy-release surface make it easy to remove barcode labels. There's no need for scraping or dealing with the error-prone mess of multiple labels stacked on each other.
"The Tote Renew system with removable labels is brilliant," Walker says. "It's so much easier for us to label and relabel our totes without destroying them or entering bad information into our inventory system. Now, we know exactly which containers are out at stores and which have been returned."
Workers were more productive, too.
"They don't waste time hand recording information on the floor," he says. "They simply pull the individual barcodes and enter the data once. There's less confusion and fewer errors, so our staff can focus on other productive tasks."
Tote Renew not only keeps containers looking clean and professional, but it also eliminates the need for plastic sleeves or placards used to house labels.
"The system works really well, very impressive," Walker says. "ID Label came through for us again."
Companies in this article