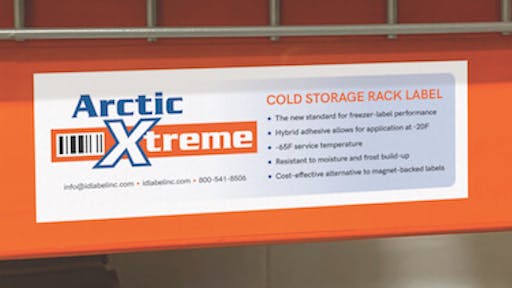 ID Label Inc. has introduced Artic Xtreme, a new warehouse rack label for cold storage environments.
The labels perform in cold, wet and sub zero conditions, featuring an advanced freezer-grade adhesive specially formulated for cold storage environments.
"Our innovative hybrid adhesive is designed to resist moisture and frost build-up while maintaining a permanent bond to metal warehouse racking," said Gregg Schiltz, ID Label's chief operating officer. "They can be applied at temperatures as low as minus 20 Fahrenheit. This means warehouse managers don't have to disrupt operations by raising temperatures or moving inventory to install them."
Once applied, Arctic Xtreme labels will maintain a permanent bond to metal warehouse racking at service temperatures as low as -65 degrees F.
The market for cold storage warehouses is expected to reach nearly $30 billion by 2021, up from an estimated $22 billion in 2019. Demand is being fueled in part by rapid growth in online grocery shopping, which is expected to account for 13% of total grocery sales by 2022.
"We provide a range of solutions for cold storage environments, including magnet-backed labels," Schiltz said. "Many of our customers have asked us for a permanent-adhesive solution with a lower application temperature. We designed Arctic Xtreme with that in mind."
Key Features of Arctic Xtreme
Performance – premium-quality labels that perform well in cold, wet and subzero temperatures and conditions. Strong adherence to warehouse racking at temps as low as -65F.
Easy application – Labels can be installed at -20F without interrupting operations. There's no need to raise freezer temperatures for labels to be applied and bond to the substrate.
Versatile – Can be applied on dry, moist, or frozen surfaces
Cost effective to use – premium product that provides a strong return on investment compared to other labeling options.