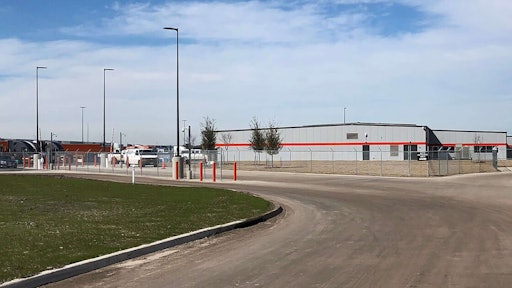 Schneider

Schneider, a premier provider of trucking, intermodal and logistics services, will celebrate the grand opening of its new operating center in the Dallas area. The company's new facility is designed to enhance the driver experience, including in-demand amenities, industry-leading maintenance capabilities and plenty of room to grow.
The new facility is located in the heart of the Interstates 45 and 20 corridors at 1211 E. Pleasant Run Road in Wilmer, Texas.
"It's an honor to provide opportunities that elevate our drivers' experiences by supporting their safety, comfort and performance with this new operating center," says Dave Geyer, Schneider's executive vice president and group president of transportation and logistics. "We can't wait to finally showcase these opportunities to our current and prospective associates at our grand opening event."
Schneider's new Dallas facility will be home to a spacious 14,000-square-foot driver services building featuring:
Expanded tractor (304 stalls) and trailer (340 stalls) parking
An all-encompassing driver business center
Driver video and quiet lounge with power charging stations
Exercise equipment and workout space
Free laundry and shower services
Full-service café with seating options for powering personal and business-related hand-held devices
Wi-Fi enabled yard
Company retail store
On-site training simulators
The new site also includes a 47,000-square-foot maintenance building, which supports professional services that ensure drivers can quickly – and safely – get back on the road. The maintenance building includes:
10 tractor bays
Five trailer bays
Three express bays
Two preventative maintenance pits
A 6,700-square-foot room for tractor and trailer parts
More than 500 drivers within Schneider's Regional, Over the Road and Dedicated service offerings will be led from the Dallas operating center.