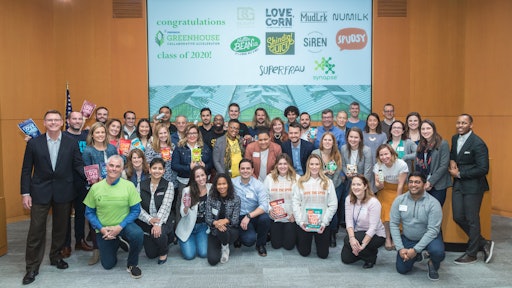 PepsiCo.
PepsiCo announced the ten emerging food and beverage brands that will join its second annual North America Greenhouse program. Each of the participating startups will receive $20,000 in grant funding and participate in a six-month business program designed to accelerate their growth through personalized mentorship.  
The 2020 PepsiCo North America Greenhouse program is designed to support emerging entrepreneurs and brands in the food and beverage industry. PepsiCo mentors from brands including KeVita, Stacy's and IMAG!NE will address marketing, distribution, manufacturing, supply chain, packaging, label claims, fundraising, and overall challenges related to growing a business.
"PepsiCo's Greenhouse program aims to accelerate growth for entrepreneurs who have built purpose-driven brands that are changing the way consumers eat and drink," said Daniel Grubbs, Managing Director PepsiCo Ventures Group.  "We provide a grant and mentorship to these companies, and we also draw great value from working closely with the entrepreneurs who are at the forefront of industry trends."
The 10 startups selected for the 2020 PepsiCo North America Greenhouse program are*:
The finalists were selected by a committee of leaders within PepsiCo based on their product and brand qualities, how they integrate purpose into their offering, and meet the needs of current and future consumers, communities and/or our planet.
At the end of the PepsiCo North America Greenhouse program, one company will receive an additional $100,000 in funding based on the company's progress, level of collaboration and partnership with the PepsiCo mentors, and the effective use of the initial $20,000 grant. That company will also have the opportunity to continue partnering with PepsiCo to further their growth.
PepsiCo first launched its Greenhouse program in Europe in 2017 and expanded the program to North America in the fall of 2018, awarding Austin, Texas-based Hapi Drinks, a sugar-free kids drinks company founded with the mission to fight childhood obesity, as the winning brand in the spring of 2019. Collectively, the 10 participating companies in the inaugural North America class grew their average revenues 200 percent through the six-month program.