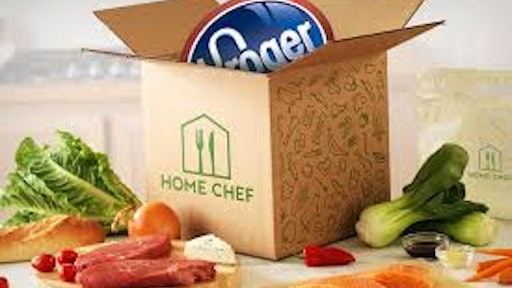 Home Chef meal kits are now available in more than 200 Midwest Kroger stores this week with plans on rolling out the service early next year nationally. The e-retailer's kits will replace Kroger's own Prep+Pared house brand kits next year.
For the remainder of the year, Kroger will test how the traditional meal kits work with customers and determine if Home Chef Express, a kit that give consumers a home cooked meal in 15 minutes, is a more viable option.
The kits cost between $17 to $20 apiece and will be in stores in Illinois and Wisconsin. Home Chef Express meals will be tested in markets in Kentucky and Michigan.
Cincinnati.com reports that Home Chef will offer four different meal kit options each week. The same recipes will be available to customers through its website, where shoppers can find more weekly variety.
Home Chef Menu (Illinois, Wisconsin and Cincinnati):
● Week of 10/8 - Brasserie-Style Sirloin Steak, Breaded Italian Chicken, Blue Cheese and Smoked Almond Pork Chop, Adobo Chicken Enchiladas
● Week of 10/15 - Steak Strip Marsala Risotto, Chicken Chimichangas, Chimichurri Pork Tenderloin, Prosciutto and Sage Linguine
● Week of 10/22 - Steak Strip Chimichangas, Teriyaki Chicken Thighs with Smoked Almonds, Maple-Glazed Pork Tenderloin, Turkey Burrito SkilletHome Chef Express Menu (Kentucky, Michigan and Cincinnati)
● Week of 10/8 - Acapulco Steak Tacos, Mongolian Meatballs, Chicken Alfredo, Honey Butter Pork Chop
● Week of 10/15 - Steak Stroganoff, Chicken Fajitas, Pork Spring Roll Bowl, Beef Chili