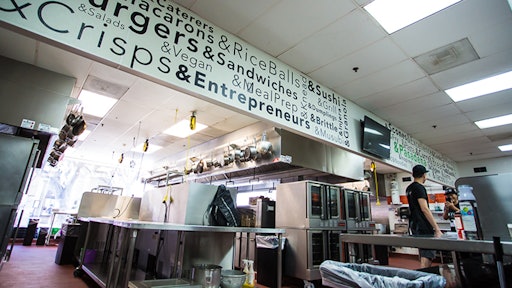 Kitchen United
The food delivery market is expected to grow from $35 billion to $365 billion worldwide by 2030, an annual average of more than 20 percent, according to financial service firm UBS. Capitalizing on the rapidly changing restaurant landscape, Kitchen United, a virtual restaurant concept, Monday announced the closing of a $10 million Series A funding round led by GV (formerly Google Ventures). Co-founders Harry Tsao and John Miller (Cali Group) also participated, along with several other investors.
"Consumers are demanding new dining choices at ever increasing levels," says Jim Collins, CEO of Kitchen United. "Our Kitchen Centers are designed to bring production closer to homes and businesses across the country, empowering local and national businesses alike to reach new markets. We're thrilled to work with GV as we bring many more of these kitchen spaces to life in the years ahead."
Launched in 2017, Kitchen United leverages aggregate data to identify the best locations for its "Kitchen Centers," which are facilities that can house 10-20 restaurants in converted warehouses, as well as big box and light industrial locations. Data on local demographics are overlaid with cuisine-specific demand mapping to determine the best locations for these centers, as well as the best partner fit from its growing list of participating restaurants. Once in the facility, Kitchen United provides its restaurants access to opt-in consumer and operational data to tailor their businesses, meet consumer demand and realize operational efficiency. Examples of these functions include flagging unpopular menu choices, allowing restaurants to reduce menu size, and tailoring labor size based on demand.
Kitchen United will use the funding to power its national growth strategy; the company has plans to open new facilities in Los Angeles, Atlanta, Columbus, Phoenix, Seattle, Denver and New York City by the end of 2019. These funds will also build the company's real estate, marketing, engineering and operations functions in connection with the existing leadership team, which hails from industry giants like Taco Bell, McDonald's, SBE Entertainment, Wolfgang Puck and more. As part of the investment, GV General Partner Adam Ghobarah will be joining Kitchen United's board of directors.
"Kitchen United's data-driven approach to flexible kitchen spaces unlocks critical value for national, regional and local restaurant chains looking to expand into new markets," says Adam Ghobarah, general partner at GV. "The founding team's experience in scaling—in addition to diverse exposure to national chains, regional brands, regional franchise, and small upstart eateries—puts Kitchen United in a strong position to accelerate food innovation. Delivery networks have created new possibilities for food entrepreneurs, and we see significant investment opportunities in this ecosystem."