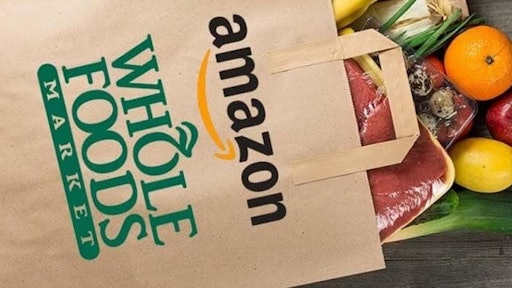 Amazon has expertise in many areas, but food is not one of them. For a decade, Amazon—a company with $178 billion in revenue and seemingly limitless resources—had not come close to breaking the billion-­dollar sales mark in its fresh food operation.
But with its $13.7 billion acquisition of Whole Foods Market, Amazon bought itself a real shot at remaking the $800 billion U.S. grocery sector—the last frontier of e-commerce and a massive one at that. Some 20 percent of retail spending goes toward food, but only 2 percent of those sales take place on the Internet.
The very thing that makes grocery delivery hard—that food goes bad—is the reason it's so desirable to a company like Amazon. Because cheese grows mold and meat goes rancid and milk sours, consumers can't hoard it in their cupboards or refrigerators indefinitely as they might toilet paper or laundry detergent. As a result, the average family hits the supermarket at minimum once a week; there's nothing else you purchase or consume so much or so often. For Amazon, getting in on that frequency is critical to further ingraining itself in our routines and behaviors.
"Food is the platform for selling you everything else," says Walter Robb, the former co-CEO of Whole Foods. "It's an everyday way into your life. There's nothing else that happens quite that way."
Amazon's quest is therefore about much more than just food.
To read the full original article, please click here.