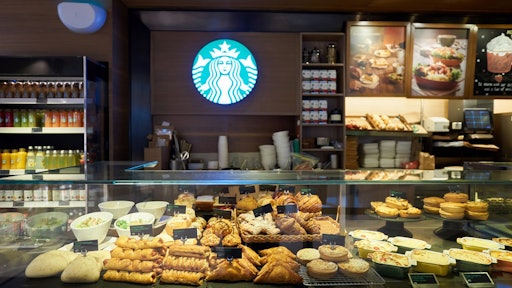 As more people are starting to eat their meals outside of stores, restaurants are trying to find new ways to attract customers.
According to the NPD Group, lunch represents 33 percent of food-service industry traffic, but is steadily declining with fewer people showing up.
Starbucks has dabbled with grab-and-go products and has started mobile ordering so that customers can order food and beverages ahead and pick them up, causing sales to grow by 20 percent.
In 2016 Starbucks invested in the Italian bakery Princi and opened its first location a year later. Nearly 40 percent of customers that come to the Reserve store have gone out of their way to drive there. Employees bake all of the breads, pastries and cakes sold to customers in the store.
Starbucks food revenue increased from 15 percent to 21 percent of sales in the U.S. over from 2016 to 2017. The company's food business grew 1.5 times in size since 2013 and plans to double it by 2021.
The company plans to roll out its Mercato menu that features sandwiches, salads and a variety of fruit and yogurt bowls to over 1,000 stores by the end of the year.
To read the full original article, please click here.