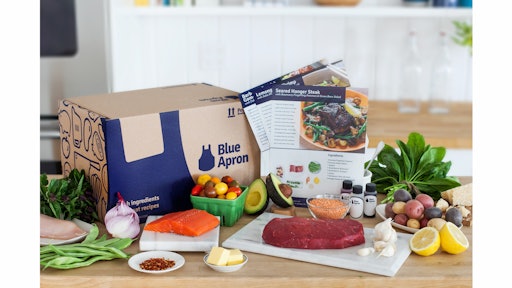 Gourmet meal-kit delivery service Blue Apron, whose rapid growth has spurred chatter that it could go public as soon as next year, has been in the headlines lately for all of the wrong reasons. Business is booming at Blue Aprong as the startup struggles to keep up with demand, but now the company is forced to deal with with a spate of violence among warehouse workers at its Jersey City, NJ, distribution warehouse, an investigation by The New York Post has found.
Just three weeks ago, on Sept. 20, bedlam erupted inside the facility as three fights broke out during a single evening shift — prompting a frightened team of corporate supervisors to flee the premises, according to eyewitnesses. On Sept. 27, a 20-year-old worker, Alexsis Herberk, was hauled to jail and charged with aggravated assault and unlawful possession of a weapon after she stabbed a female co-worker at the 45th Street light-rail station, according to an NJ Transit police report.
The chaos in Jersey City is not the only embarrassment for Blue Apron's 33-year-old founder and chief executive, Matt Salzberg. On Oct. 2, BuzzFeed reported incidents of violence were also commonplace at Blue Apron's West Coast facility in Richmond, Calif.
If Salzberg and his co-founders can't improve their warehouse management skills, it could complicate the company's reported ambitions to take itself public in a 2017 deal that could value the firm as high as $3 billion.
To read more, click here.